Chocolate, Caramel, Marshmallow, Whiskey & Bacon Bark
" Dianna's imaginative chocolate bark recipe combines sweet caramel and whiskey-infused marshmallow, topping it off with our favorite vice: bacon. The result is a mind-blowing indulgent candy that satisfies every wicked craving. Krysta, Recipe Hunter "
Chocolate, Caramel, Marshmallow, Whiskey & Bacon Bark
Sweet, salty, and a little bit naughty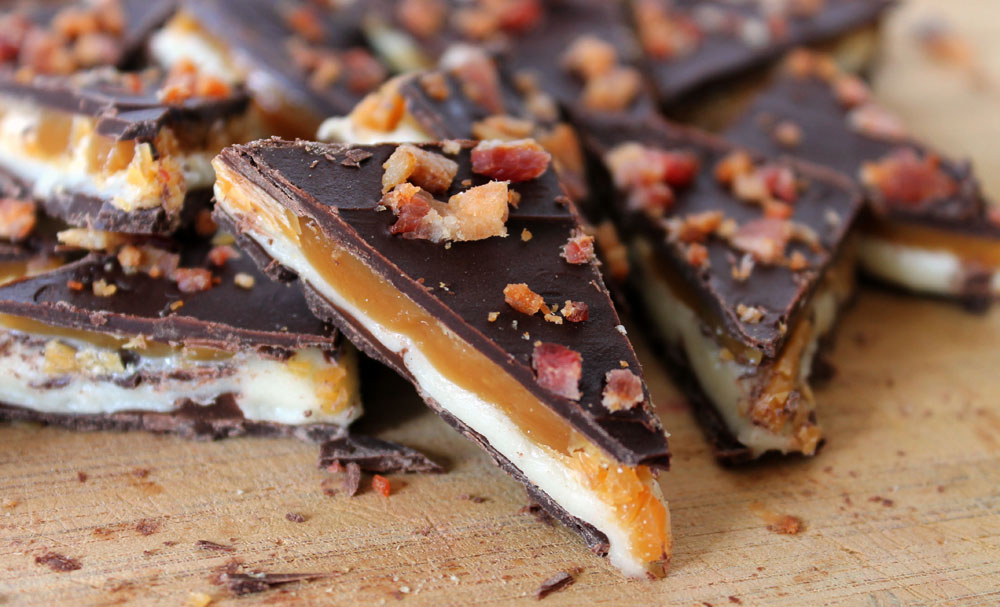 We don't know about you, but the idea of adding bacon and whiskey to anything generally strikes us as an excellent idea. For this week's sweet treat, Dianna's inventive bark recipe takes candy to a whole new level combining caramel and chocolate sweetness with salty bacon, plus a secret kick of whiskey-infused marshmallow. Warmer weather and longer days inspire the sweet memories of being a kid, and what better way to reminisce than with candy? Easy to make, but complex in flavor, Chocolate Caramel Marshmallow Whiskey & Bacon Bark is perfect to pack up for a backyard post-barbecue dessert, wrap with a bow in a box for shower or hostess gifts, or just eat it with your fingers straight off the cutting board.
Blogger, Foodie, and Ice Cream Connoisseur
" Whether it's a simple weekday dinner, or a complicated dessert recipe, I thrive on seeing ingredients come together to form something truly delicious. Cooking is my hobby, but baking is my muse! I wax poetic when it comes to sweets. "
Dianna's love for life is in the details. From crafting sweet treats for her hubby to peeling potatoes and deveining shrimp, she relishes every minute in the kitchen. From her blog, The Kitchen Prep, Dianna shares with us her whimsical love for food and her colorful collection of recipes spanning the spectrum from decadent to healthful. A contributor for Honest Cooking and Taste of the South magazines, she is also a member of the AOL Kitchen Daily's network. Officially trained by her loving grandma when she was a kid, her culinary artwork blossoms in her kitchen at home in South Florida where she lives with her husband Steve and their yellow lab, Farley.
Head over to The Kitchen Prep and say hello to Dianna on Facebook, Twitter, and Pinterest.
If you're trying to evenly spread batter, chocolate, or other sticky substances in your baking or candy making, you've probably noticed that much of it often ends up sticking to your spatula. Working with a silicone-based tool can help with this, but it's not fool-proof. Here's our trick for no-stick spatulas:
Lightly spray the spatula on both sides with cooking spray. As you notice the batter starting to stick, rinse and wipe the spatula then spray again and continue. No cooking spray? Just dip a paper towel into a neutral flavored oil and rub both sides.
The oil in the cooking spray will help the batter slide right off with no sticking. Don't forget, you can also use the spray to make it easier to scoop cookie batter, slice cookie dough, and to keep honey from sticking.
Get more hand-picked recipes and cooking tips right in your inbox.