" So long tough meat! Slow roast your chuck roast in the oven for four hours and you've got a juicy one-dish meal to warm you up inside and out through the long winter. Rebeccah, Recipe Hunter "
Yankee Pot Roast
Yes, even better than grandma's.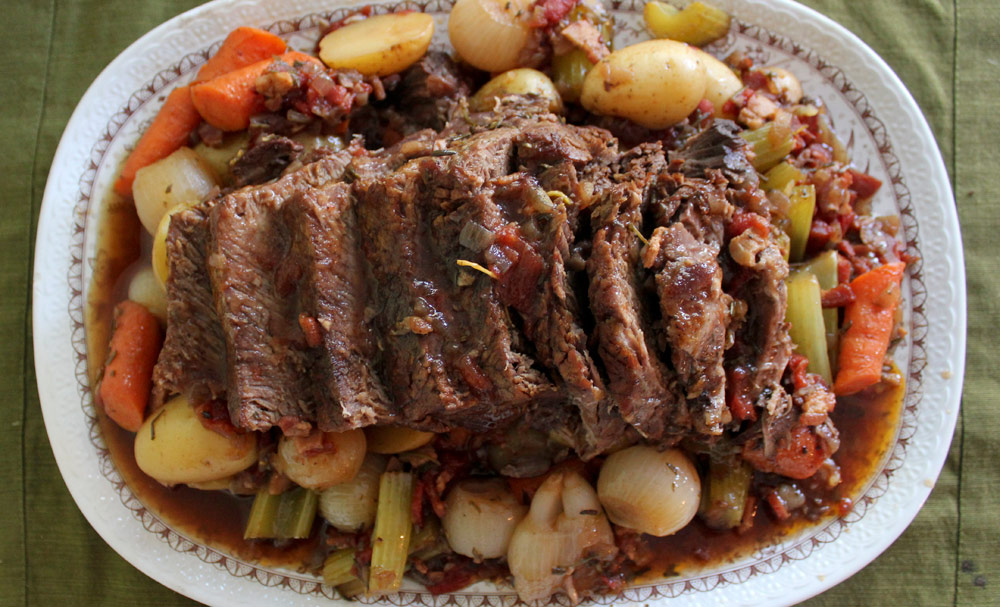 Here's a secret – roasts may sound intimidating but they're super simple – and nothing evokes memories of Sunday dinners at Grandma's house quite like a pot roast. This inexpensive tough cut of meat may need a little bit of doctoring and a good chunk of time before it hits the table, but when it does few things are more appetizing than the completely transformed, now succulent roast. A simple pot roast like this one should be in every chef's roster, yet preferences are often prone to old familial allegiances, discouraging the next generation from trying their hand at a classic. Lest the technique be lost for the ages and to avoid the "It's just not as good as…" talk, here's an example of a proper oven roast with no crockpots to be found! While not quite as simple as a "fix-it and forget-it" recipe, by adding the vegetables near the end of the cooking period, you ensure that each will be seasoned by the braising liquid without coming out mushy and tasteless. This one simple often overlooked step yields bounties of flavor, and provides a foil to the tender falling apart meat.
Lead Sandwich Photographer
" We don't have any training or experience in the restaurant business, don't own any fancy cookware, and have no special equipment. We don't even own a decent knife. We believe, however, that anyone who cooks, regardless of skill level, can make interesting, inspired, delicious food. Our goal is to help our readers do just that. "
Malcolm and Jillian Bedell's blog may be titled From Away, but don't be fooled – their comfort food recipes make you feel right at home. With a long list of recipe classics followed up by more ambitious and adventurous spins on ethnic dishes, the collected recipes surprise and delight those of all cooking levels. After years of traveling and living abroad, the now Maine-based couple also feature the best of the local food scene, profiling more than 150 restaurants to date in addition to the 450+ recipes found on the site. With so many options to choose from, both homemade and from area restaurants, it's difficult not to want to jump in the car for a road-tripping jaunt up to the Pine Tree State!
Head over to From Away and say hello to Malcolm and Jillian on Twitter, Facebook, Google+, and Instagram.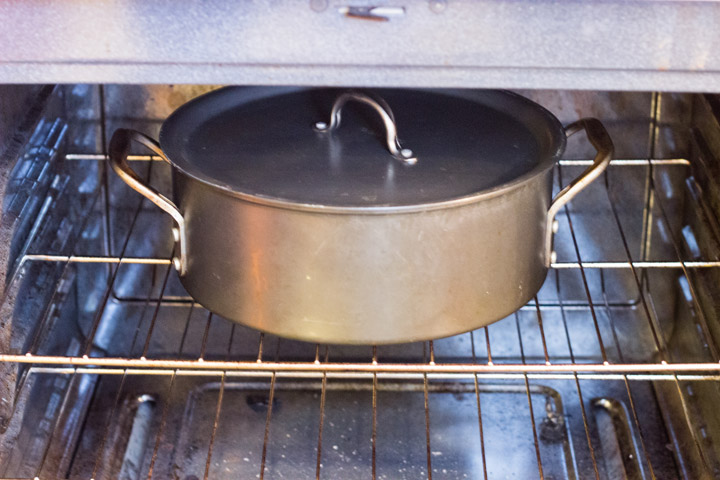 Trying to keep a pot of stew, soup, or braise at a low simmer on the stove can be a tricky endeavor since everyone's stove is different. Sometimes it's too hot, sometimes it's not hot enough. The result is that we end up peeking into the pot frequently and are constantly playing with the knobs to try to get it right. Sound familiar? The problem is that all of this fidgeting defeats the purpose of braising meats low and slow at a consistent temperature. The solution? Use the oven!
When making a stew or braise, place the covered pot in the oven instead of on the stove to keep it at a consistent temperature. For most ovens, a low simmer will be around 325 – 350 degrees F. Make sure to use a pot that is completely oven safe (including the lid).
For most stews and braised dishes, look for the part in the recipe says "turn down to a simmer, cover, and cook." Do everything before this as instructed on the stove and save the long cooking part (when maintaining temperature is the most important) for the oven.
Get more hand-picked recipes and cooking tips right in your inbox.