On Monday, April 15th, Massachusetts will be celebrating Patriot's Day by inviting over twenty thousand people into the city to strap on numbered bibs, tie their sneakers, and run the Boston Marathon. Since its inception, the marathon has always taken place on Patriot's Day, known to the locals as "Marathon Monday." Even though Massachusetts and Maine are the only states who officially commemorate the anniversary of the Battle of Lexington & Concord, we thought it was a great reason to share Boston's unique culinary history and collect a few recipes inspired by The Olde Towne.
Boston is home to the oldest operating restaurant in the United States. The Union Oyster House opened its doors in 1826 and has long been a fan favorite of celebrities and townspeople alike, serving up traditional New England dishes that Bostonians can't get enough of. Everyone from the King of France, to the Kennedy family, and Daniel Webster have all pulled up a chair at Union, slurped down some chilled oysters, munched on hot fried clams, and enjoyed a cold locally brewed beer. Because Boston is right on the ocean, it's no surprise that fresh seafood is at the top of our list for today's roundup. This recipe for New England Clam Chowder from Martha at A Family Feast won first place at the Newport Chowder Festival in Newport Yachting Center Marina, Rhode Island. Serve it in a pot, mug, or a bread bowl– whatever you do, make sure you say it right: it's pronounced chowda. Whether you like your clam chowder thin or thick, Martha's recipe can be adjusted to taste, and it's loaded with clams and a touch of salt pork for a hint of smoke.
Recipe and Photo: A Family Feast
Since early colonists first settled in Beantown, Boston's been known for its diverse collection of cultural influences. Many people are aware of the city's major Irish culture (especially around St. Patrick's Day) but few know about the other immigrant communities that continue to bring so much flavor and variety to Boston.The North End, also called Little Italy, is loved for its winding cobblestone streets, classic Italian grocers, authentic pizzerias, and dueling bakeries. Whether you prefer your pastry's from Mike's or Modern, you can never go wrong with a good cannoli, especially for breakfast. For a taste of Boston's North End in your own kitchen, try this fabulous Cannoli Stuffed French Toast from Maria and Josh at Two Peas and Their Pod.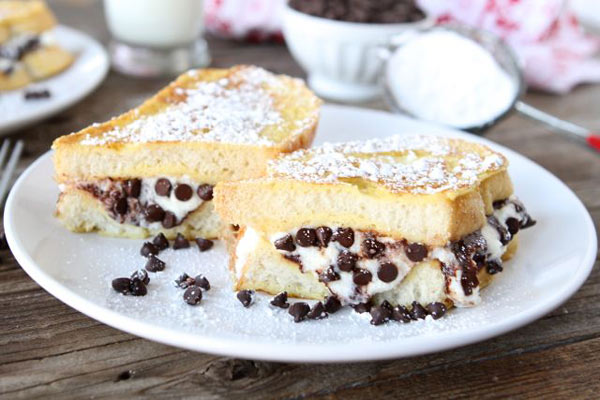 Recipe and Photo: Two Peas and Their Pod
Bordering the Boston Common, the South End, and the Washington Street Theater District, Boston's Chinatown is the city's most densely populated neighborhood with more than 28,000 people per square mile. Established by Chinese immigrant communities, rich with history and tradition, it's a popular tourist destination and features some of the best authentic Asian cuisine in the country. Most popular among Bostonians is the Cantonese style meal called Dim Sum, bite-sized portions of dumplings, vegetables, and meats usually served from steam baskets. Making awesome dumplings at home is actually a lot easier than you might think, and much more fun than waiting around for the take-out delivery guy. These Pot Stickers from The Midnight Baker will have you cooking with Cantonese faster than you can say Tōngguò bāo jiǎozi (pass the dumplings).
Recipe and Photo: The Midnight Baker
Even though Boston is a big city by east coast standards, complete with champion sports teams, skyscrapers, and countless colleges and universities, The City on the Hill is also one of the best urban places to live if you love a good farmers' market. Back in the 1800s, the Transcendentalist philosophers of Boston pioneered the healthy food movement, inspiring New Englanders to consider good food for the first time as a necessary means to living longer, happier lives. Year round there are well-stocked farmers' markets popping up in different neighborhoods in Boston, and farmers, beekeepers, bakers, and crafters from all over Massachusetts gather to bring the season's freshest ingredients to city-dwellers who may not have the space to raise a dairy cow in the back ally, or cultivate their own vegetable garden. Farmers' market inspired chef Jeanine of Love & Lemons created this recipe for Farro Salad with Kale Pesto. It's the perfect way to utilize in-season veggies, while the ingredients combinations are totally flexible depending on what's sprouting up where you live.
Recipe and Photo: Love & Lemons
Monday's marathon athletes will triumphantly sprint across the finish line in downtown Boston after a 26.2 mile run, taking an active part in a piece of history that's been developing since the first eighteen men ran this route back in 1897. This landmark city hosts the world's oldest annual marathon, and what better way to honor history and diversity by getting busy in the kitchen? Get cooking!