Ch-ch-ch chia! It's back! Not the creepy toys that grow sprouts to resemble hair or fur, but the incredibly healthy, omega and fiber packed chia seeds of which we are completely obsessed! These tiny gems are a nutritional and culinary wonder that enhance just about every dish they've ever met.
Chia seeds never went anywhere, but have only recently been brought back to our awareness full scale as nutritionists and scientists recognized the lack of certain nutrients in American diets and turned to history to discover natural solutions. Chia seeds were first introduced to human diets around 3500 BC when Aztecs and Mayans began consuming them regularly, grinding them into flour, pressing them for oil or drinking them mixed with water. They were considered magical for their ability to increase stamina and energy over time.
Like popular superfruits (think goji and acai berries), chia seeds are considered a "super" food because they pack maximum nutrients with minimal calories. A single 1 tablespoon serving has just 60 calories. Chia seeds are loaded with fiber, omega fatty acids, calcium, antioxidants and protein, making them a perfect addition to any healthy diet.
These amazing magical little seeds can be consumed whole or ground into a powder and make a perfect nutritious add-on to all types of dishes, making them a fabulous ingredient choice for any adventurous home chef. Chia seeds can absorb 10 times their weight in water, making a tapioca-like gel that can thicken sauces or jams, and even help you feel full longer.
Try your hand at one of the recipes below and get your ch-ch-chia on!
1. Raw Hemp and Chia Seed Bars
Packed with great wholesome ingredients, these delicious bars can easily be adapted to accommodate gluten-free and vegan diet needs without losing any nutrition or flavor. For the gal or guy on the run, these raw hemp and chia seed bars are for you – just grab and go! (Recipe and photo from The Healthy Family and Home)
2. Strawberry Chia Seed Spread
With just strawberries, chia seeds, honey and water, this spread embodies clean eating and simplicity. While the texture and process of creation are different from a traditional jam, this healthy spread is still delicious as a complement to nut butter on crackers. (Recipe and photo from The Gracious Pantry)
3. Avocado Fruit Salad with Chia Yogurt Dressing
If you thought fruit salads were boring, think again! With mango, citrus and avocado, this one would stop us in our tracks even without the awesome chia yogurt dressing poured over top. Seriously guys, it has avocado! (Recipe and photo from iFOODreal)
4. Cornmeal and Chia Seed Crusted Tilapia
Next time you make fish for dinner, try introducing some chia seeds to create a crispy and healthy coating before pan-frying with lemon and olive oil. Mixed with corn meal, chia seeds give this tilapia a perfect crunch. (Recipe and photo from Savoring the Thyme)
Love lemon poppy seed muffins? Add extra nutrients to your favorite muffins by swapping out poppy for chia! They have the same awesome crunch, with a subtle, but nuttier flavor and WAY more health benefits. (Recipe and photo from Dinners, Dishes, and Desserts)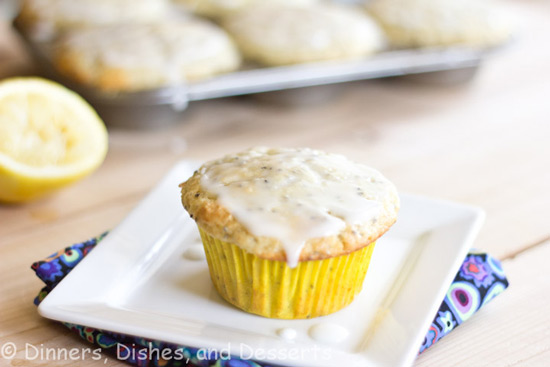 6. "I Don't Have Time for Breakfast" Make Ahead Oatmeal
Replicate this recipe at home and you'll have a healthy and filling breakfast for a week. Whole chia seeds thicken the mixture of oatmeal, Greek yogurt and almond milk, and the grated apples, pomegranate seeds and almonds add great texture and flavor. (Recipe and photo from May I have that Recipe?)
7. Chia Flapjacks with Strawberry Salsa
A reader once asked us if you can add chia seeds to pancakes or flapjacks. This recipe proves that you can, and you should! The chia seeds add nutrients and a subtle crunch to the flapjack base and a spicy strawberry salsa tops the tower for an extra twist to a classic breakfast treat. (Recipe and photo from Scarletta Bakes)
8. Raspberry Coconut Chia Pudding Pops
Few things in life are better than a frozen treat on a warm summer day. These raspberry coconut chia pudding pops are cool, refreshing, and loaded with nutrients for a mere 74 calories a pop. We'll take the lot! (Recipe and photo from Skinny Taste)
9. Mint Chocolate Chia Seed Pudding
Take the traditional after dinner mint; add chocolate, chia seeds and almond milk, and you'll wind up with this refreshing and nutritious tapioca-style pudding for dessert. Served in mason jars, this is the perfect way to wrap up dinner for two, or one if you're greedy. (Recipe and photo from Young Idealistic Baker)
10. Blueberry Chia Blast Smoothie
What's a chia seed recipe roundup without a good smoothie recipe? This healthy vegan option mixes blueberries and chia seeds with coconut milk and silken tofu for creamy and flavorful start to your day. (Recipe and photo with permission from The Curvy Carrot)
Wondering where to find chia seeds so you can get cracking on one (or all) of these amazing recipes? Look no further than your local grocery store's health section and grab a bag.
What's your favorite way to use chia seeds?