Take a detour into veggie land during your Thanksgiving feast and give one of these seasonal salads a try!
While the highlights of the traditional turkey day meal are of the gravy-drenched and stuffed variety, we're here to advocate for the refreshing benefits of adding a salad to the mix. Afterall, man cannot live on mashed potatoes and gravy alone. Nibbled on between bites of richer fare, these Thanksgiving-appropriate salads offer a fresh contrast.
But as this is a feast of plenty, these salads are not mere rabbit-food – they're a hearty bite of fall flavor. Most of our chosen salads are wilt-proof and can be made far in advance – a major benefit while prepping a major feast. From bitter greens to juicy pomegranate seeds, the recipes below will freshen up your T-day table without weighing you down!
1. Roasted Beet and Farro Salad
For a pop of gorgeous fall color, you can't beat beets! The roasted roots are used two ways in this recipe – as a topper for earthy, nutty farro, and blended into a tangy, mustard-y vinaigrette. (Recipe and photo: 10th Kitchen featured on NoshOn.It)
2. Roasted Sweet Potato, Spinach, and Grain Salad
Toasty, paprika-dusted sweet potato chunks meet dark greens and the grain of your choice (brown rice, quinoa, millet – the sky's the limit!) for a hearty yet healthy tasting salad screams fall from the color to spice. Topped with a contrastingly tart lime dressing, this guy hits all our Thanksgiving salad high notes. (Recipe and photo: Naturally Ella)
3. Roasted Carrot and Chickpea Wheat Berry Salad
There are an unbelievable number of tasty partnerships going on in this salad. Classic mint and feta, nutty wheat berries with actual toasted (wal)nuts, roasted carrots and honey…we could go on. In any case, the resulting salad is a hearty combo of vegetable, grain and protein – a potential meal in itself, and the next great addition to your holiday table. (Recipe and photo: Eats Well With Others)
4. Moroccan Quinoa, Orange, and Avocado Salad
A combo of spices, tart oranges, crisp greens, and creamy avocados make this salad a complex bite of textures and flavors. The protein-rich quinoa can also help satisfy any vegetarian guests who may be passing on turkey. (Recipe and photo: 84th and 3rd)
5. Cara Cara Orange, Beet, and Goat Cheese Salad
Sweet, gorgeously reddish orange Cara Cara's meet paper thin slices of raw beets for a salad that's just as eye catching as it is refreshing. Nothing like a burst of citrus to refresh your palate before that next round of stuffing! (Recipe and photo: Healthy Green Kitchen)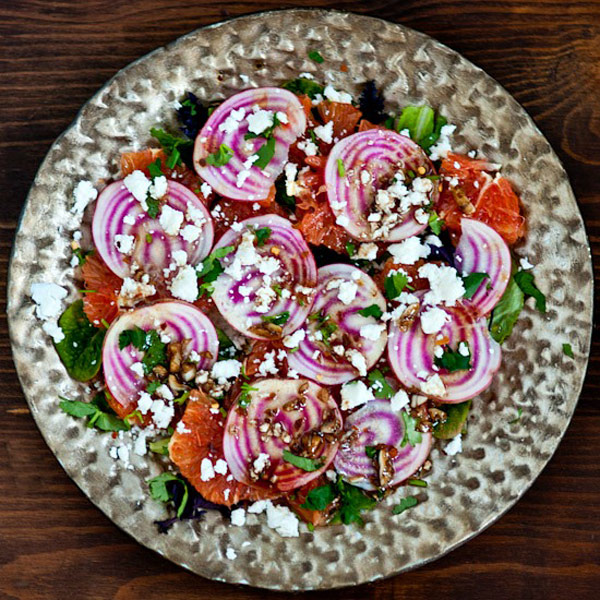 6. Deb's Kale Salad with Apples, Cranberries, and Pecans
To us, the apple-cranberry-pecan combo is classic fall. One part sweet, one part tart, and one part crunchy, it simply can't be beat. Sturdy kale makes a texturally interested base for a salad that can be prepared in advance without feel of wilting – perfect when one is dealing with a multitude of other T-day dishes. (Recipe and photo: Cookie and Kate featured on NoshOn.It)
Whoever said winter produce was boring clearly never met this dish. Persimmons, asian pears, pomegranate seeds and fuji apples mix with a base of red cabbage and romaine to create a salad that's bursting with fresh flavor. (Recipe and photo: With Style & Grace)
8. French Lentil and Vegetable Salad
Fiber-rich lentils and roasted sweet potatoes plus raw shaved brussels sprouts make this salad a wonderland of textures that will keep you coming back for more. Add a balsamic soy vinaigrette and you've got a flavor profile that stands out from the traditional Thanksgiving dishes. (Recipe and photo: In Pursuit of More)
9. Raw Kale and Brussels Sprouts Salad with Tahini Maple Dressing
One taste of this creamy tahini dressing flavored with maple and white miso had us sprinting for the salad bowl. And pouring it over slightly bitter, sturdy raw kale and brussels sprouts proved to be the perfect marriage between hearty veggies and rich (yet still healthy) dressing. Top with sliced almonds and shaved parmesan and you have an umami flavor blast you'll want to return to before, after, and during your turkey consumption. (Recipe and photo: Cookie and Kate)
10. Radicchio and Endive Salad with Chives and Maytag Blue
Bitter greens meet blue cheese in mix of strong flavors that'll wake up your mouth just in time for that pie course. Bitter greens marry well with the winter cold in our minds  – December, we see you coming and prepared endives accordingly. (Recipe and photo: Food Gal)
Crispy, thin slices of broccoli florets get lightly marinated in a yogurt based dressing for extra flavor and a less fibrous texture – making this a great make-ahead addition to your feast. (Recipe and photo:  Taste Love & Nourish)
12. Roasted Cauliflower and Hazelnut Salad
Crunchy textures unite in this lettuce-less salad. Parsley leaves offer flavor-packed foliage, and maple syrup, cinnamon, and allspice in the dressing recall classic Thanksgiving profiles (perhaps readying you for some pie?) in an unexpected form. (Recipe and photo: Love and Lemons)
Here are a few tips to help you make the best winter salads:
>> How to Properly Dress a Salad
>> How to Dress a Quinoa or Grain Salad
>> Make Raw Kale Tender for Salads
>> The Easiest Way to Remove Pomegranate Seeds