Thanksgiving means turkey and stuffing and cranberry sauce. It means stuffing our faces and topping it off with just one more slice of pumpkin pie. But Thanksgiving also means leftovers, and it can get tricky finding ways to use all that extra food. Luckily, we've got tons of tasty recipes to choose from, so get ready to put those leftovers to good use!
TURKEY
Thanksgiving is empty without turkey, but by the time dinner is over you'll be everything but. And we all know that the days after Thanksgiving are days full of turkey everything, so here are a selection of some of the most interesting ways to put that turkey to good use.
Looking for a new way to use turkey leftovers? Try this red wine twist on the classic chicken pot pie, and extra biscuits work great to top it off! (Recipe and photo: The Improv Kitchen)
2. BBQ Turkey Stuffed Red Potatoes: 
After Thanksgiving feasting, it's always nice to enjoy some new flavors. And this BBQ turkey is a great way to appease that palate. (Recipe and photo: The Improv Kitchen)
3. Curried Turkey And Israeli Couscous Salad:
After all of that feasting you're probably looking for a lighter way to reuse all those leftovers, and what better way than to make a salad? This lettuce free salad is bursting with fruity flavor and just the right amount of spice to get you in the spirit through this holiday season. (Recipe and photo: Skinny Luscious)
There's nothing that'll warm you up during the holidays quite like this Southwestern inspired turkey tamale soup. And it packs just the kick you need to get you through all of that Black Friday shopping. (Recipe and photo: The Cozy Apron)
5. Turkey Tacos with Cranberry Salsa and Cream Cheese:
Sweet and savory combine in this taco recipe creating the perfect mix of flavors for a delicious dinner. The apples and cranberries balance out the taste of the turkey and cream cheese, making these a great use for all of that leftover turkey. (Recipe and photo: Mountain Mama Cooks)
POTATOES (Sweet and Mashed)
With so many different ways to cook potatoes for Thanksgiving, it's almost always a given to find yourself with leftovers. But instead of throwing away those extras, reinvent them in new ways like the recipes below!
The second best part of Thanksgiving is the Black Friday Brunch. And with these healthy and easy to make waffles, you'll be ready to take on the day ahead.(Recipe and photo: Maria Makes Muffins)
2. Shrimp and Potato Croquettes:
Jazz up some of those leftover potatoes with this deliciously simple recipe that only requires a few extra ingredients. These croquettes are a great appetizer for entertaining guests, and the shrimp inside is sure to be a great surprise.(Recipe and photo: Kitchen Confidante)
A mix of sweet potato and marshmallow, these fluffy biscuits are the perfect recipe for any day. And they're a great side for all those leftover turkey recipes you'll have to try! (Recipe and photo: Home Cooking Memories)
If you're up for the challenge, this bread made from leftover mashed potatoes is more than worth it. It's a two day task, but it is full of flavors that you just can't buy in a grocery store. (Recipe and photo: The Devil's Food Advocate)
PUMPKIN
Pumpkin anything is a given in this time of year, and you're bound to have extra cans of pumpkin puree lying around your kitchen cabinets. But don't let them waste away on the top shelves. Experiment with new flavor concoctions like these!
With just a few spices, pumpkin puree, and some good old fashioned cream cheese you've got an easy-to-make sweet spread that will taste amazing on anything. (Recipe and photo: I Will Not Eat Oysters)
Pumpkin is great for any time of day as it adds a smooth but powerful flavor. With some helpful planning and the warm tastes of fall, this oatmeal recipe, full of healthy oats and flax seeds, will have you ready to take on anything that comes at you. (Recipe and photo: The Chic Life)
3. Pumpkin Crepes with Beer and Cinnamon Apples and a Chocolate Drizzle:
Easy and overflowing with flavor, these pumpkin pie crepes are a great treat for breakfast, lunch or dinner–and if you're us, all three! (Recipe and photo: Eats Well With Others)
4. Creamy Maple Bacon Pumpkin Risotto:
Pumpkin is usually synonymous with sweet treats, but its rich flavor also works well in more savory dishes too. And the distinct flavor of pumpkin gives in this risotto is an excellent example of that. (Recipe and photo: Pineapple and Coconut)
CRANBERRY SAUCE
Cranberry sauce is a Thanksgiving staple, but when dinner comes a close and there's still a giant bowl of cranberry sauce left, it can be hard to think of ways to incorporate it in other recipes. And that's where these tasty cranberry sauce concoctions come in!
For such a simple and easy recipe, these brownies sure do pack a punch. Swirl those cranberry leftovers into your favorite brownie batter and watch as the brownies soak in that tart goodness. (Recipe and photo: Confections of a Foodie Bride)
The tartness of the cranberries really works well with the sweetness of the apples and the warmth of these autumn spices to form some amazing saucy goodness. And it's a very versatile recipe, great for spreading on toast, oatmeal, and even pancakes.(Recipe and photo: A Dash of Soul)
3. Cranberry White Chocolate Tarts:
Colorful and cute, these little tarts are bursting with a sweetness that will melt your heart and soul. The sweetness of white chocolate and the tartness of the cranberry work incredibly well together, making this dessert one Thanksgiving tradition that will continue for years to come. (Recipe and photo: Pastry Affair)
Incorporating two of the tastiest things on this planet, this cranberry baked brie sure can put those taste buds into overdrive. The way these two flavors battle each other in this appetizer is delicious in its simplicity.. (Recipe and photo: My Life as a Mrs.)
MILKSHAKE MADNESS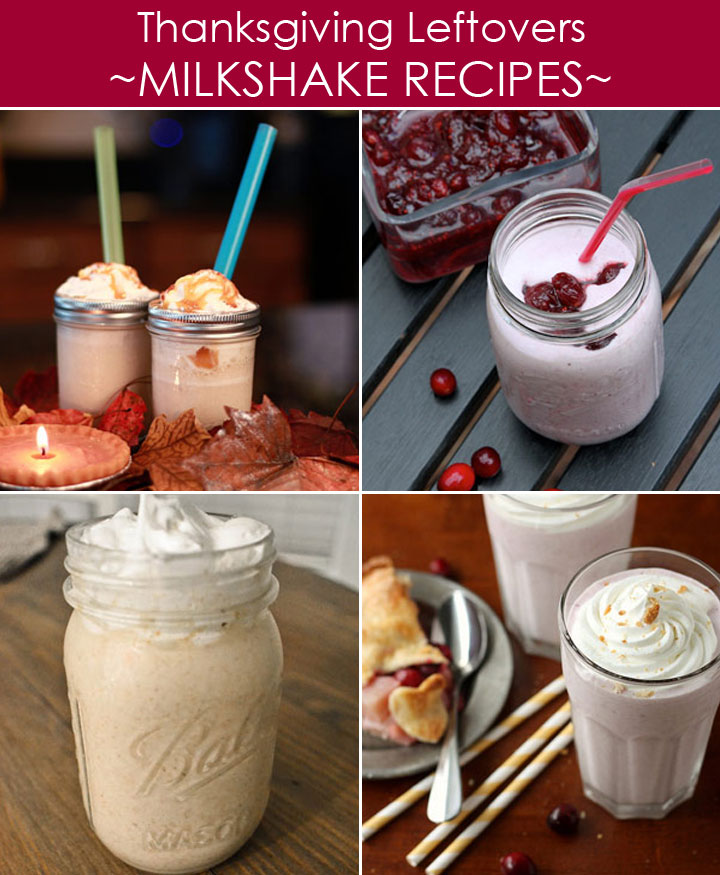 With Thanksgiving comes pies and cookies and cupcakes and all other beautifully delicious sweet treats. And instead of letting these goodies go to waste, why not try out these delectable milkshakes with those leftovers?
What could possibly be better than Pumpkin Pie? How about a Pumpkin Pie Milkshake? It's almost too good to be true!(Recipe and photo: Fresh Mommy Blog)
Maybe you like your homemade cranberry sauce a little spicy, maybe you like it as tart as it can be. Either way works great mixed with a few heaping spoonfuls of vanilla bean ice cream and drank through a straw like in this recipe here! (Recipe and photo: Scoop Adventures)
3. Apple Pie Shake:
There's always room for dessert, even if the massive quantities leftover seem to show otherwise. Just throw some of those extra slices of apple pie into a blender with ice cream and you'll find yourself with the perfect dessert–in liquid form. (Recipe and photo: Defining My Happy)
4. Any Pie Shake:
If you've got leftover pie, we've got the solution. With this recipe, any pie can be turned into a delicious milkshake with just a few scoops of ice cream and a blender, the choice of pie, though, is entirely up to you. (Recipe and photo: Completely Delicious)
ALL IN ONE
Sometimes you just want a recipe that includes all of those delicious Thanksgiving favorites. And these recipes include a variety of those leftovers in ways you probably never even thought of.
1. Turkey Sweet Potato Hash with Basted Eggs:
This recipe is like Thanksgiving all over again, plus a side of eggs which are great in and of themselves. And don't feel limited with just using Thanksgiving leftovers, throw in some veggies and spice it up.(Recipe and photo: Life, In Recipes)
2. Eggs Baked in Thanksgiving Leftovers:
Breakfast is the most important meal of the day, and with all the fixings from Thanksgiving dinner the night before, this morning meal of eggs nestled in a bowl of leftovers and baked to perfection, is a great way to start any day.(Recipe and photo: The Gouda Life)
3. Thanksgiving Leftover Pizza:
Who doesn't love pizza, right? And with such an interesting mixing of ingredients–cranberry sauce instead of tomato sauce, turkey and stuffing instead of pepperoni and veggies–this has the potential to be a recipe repeated until all the leftovers are gone. (Recipe and photo: Jelly Toast)
4. Turkey and Stuffing Turnovers:
If you're looking for Thanksgiving dinner round two, look no further! Full of all the delectable leftovers from the night before, these turnovers are like Thanksgiving dinner in the palm of your hands. (Recipe and photo: A Family Feast)
 5. Thanksgiving Gobbler Sandwich:
Because what's Thanksgiving without the traditional post-Thanksgiving sandwich? This recipe does a fantastic job at combining as many of those iconic Thanksgiving flavors as possible into one heaping mountain of sandwich-y goodness. (Recipe and photo: Cookie Monster Cooking)