Ever had a supermarket moment where you've spent more time than you would have liked trying to decipher between a turnip and a rutabaga? Or perhaps one where you've picked up a funny-looking root vegetable out of a bin and wondered, "What is this?!" Many of these dirt-dwelling marvels sport thick exteriors which function as protection while they are still in the ground, but can be off-putting and difficult to navigate (sadly, as a result, many of these delicious veggies are misunderstood and overlooked!). Both figuratively and literally, each root vegetable is somewhat of its own puzzle, and we're here to sort some things out and get to the root of your questions.
THE BEET
The Basics: Whether deep red, golden, or chioggia (an Italian heirloom variety also known as "candy-cane"), beets provide a wealth of nutrition and a beautiful jewel-like color component to any dish they grace. In general, a healthy beet is firm, heavy-feeling and absent of surface nicks. However, the best way to spot out a good bunch is to inspect the greens attached – are they healthy or are they wilted? You can eat these, too! Roasting beets until they're tender brings out their intense, sweet, earthy flavor. The golden beet is comparably milder and nuttier, while the chioggia is slightly sweeter. A note of caution: white clothes are not a good idea.
How to choose: Choose firm, heavy beets with no nicks. If possible, choose bunches with greens attached, and make sure that they are healthy.
How to prepare: Remove greens, wrap whole, unpeeled beets in foil and roast until tender (40–50 minutes) at 400 degrees. Sending beets into the oven whole better preserves the stunning color and when they've finished, the skin will slide right off! As for the greens, they work well simply sauteed with olive oil and garlic, or stirred into a soup.
Try one of these recipes:
Beet, Carrot and Pomegranate Salad from Foodie Crush
Beet and Goat Cheese Napoleons from Fifteen Spatulas
Baby Beet Gratin with Orange and Thyme from Taste Food
Sauteed Beets from Spicie Foodie
THE CARROT
The Basics: Juicy and crunchy when raw, soft and sweet when cooked – we are all familiar with the carrot, serving as the subtly sweet building block of many soups, stocks, and even desserts. Arguably the most versatile of the root veggies, these bright orange beauties are compatible with a wide array of spices (dill, rosemary, and cumin to name a few) and other ingredients. A raw carrot serves as a satisfying snack on its own, but can also be grated into salads or sandwiches. The natural sweetness that carrots develop in the oven can be enhanced or altered depending on how you've prepared them. Carrots are often thought of as playing a supporting role in the food-world, but when given the chance to shine, they can be the star, too!
How to Choose: Look for firm, unwrinkled bunches and avoid anything pre-peeled or pre-cut (when stored this way they lose taste and nutrition – when stored unpeeled they can last for up to 5 weeks!)
How to Prepare: Peel, cut diagonally into 1½-inch slices, and roast for 20 minutes at 400 degrees with a little olive oil, salt, and pepper.
Try one of these recipes:
Roasted Carrot Soup with Citrus and Cumin from Five and Spice via NoshOn.It
Ginger, Citrus and Black Sesame Carrot Edamame Salad from The First Mess
Honey Mustard and Rosemary Glazed Carrots from The Healthy Foodie
Meyer Lemon Roasted Carrot Strings from Running to the Kitchen
THE CELERIAC (AKA CELERY ROOT)
The Basics: Celeriac is another name for that misunderstood lumpy, hairy, twisted jumble from which a certain type of celery grows. While they are none-too-pretty and notoriously difficult to peel, it is worth the effort to reach the tender ivory flesh hiding beneath the surface. With a texture that is crisp when raw and silky smooth when cooked, this particular root hosts a delicate nutty flavor with notes of celery and parsley, making it a perfect candidate for creamy winter soups and mashes. When shaved or grated thinly, raw celeriac can act as a refreshing salad ingredient.
How to Choose: Find the smoothest celery root you possibly can. If there are any greens attached, check that they are healthy – be sure to cut off any stalks and store them separately.
Basic preparation: Skin with paring knife, cut into chunks and roast for 40 minutes at 350. If you are eating it raw, shave or grate thinly and squeeze lemon juice to prevent discoloring.
Try one of these recipes:
Celery Root Soup with Caramelized Apples from Rosemarried via NoshOn.It
Celery Root and Beet Salad with Lemon Chilli from My Darling Lemon Thyme
Seared Scallops and Potato Celery Root Puree from Lisa is Cooking
Celery Root and Apple Salad from Gourmande in the Kitchen
THE PARSNIP
The Basics: Resemblant of a pale, top-heavy carrot, meet the parsnip. While a close relative of its colorful look-a-like, the parsnip in its raw form will not provide the same tasty snack (yet it can be eaten this way), but parsnips may be cooked in any way you would carrots and may also act as a substitute. The result is even sweeter, ranking the parsnip among the sweetest of the root vegetables. In their most common form, pureed, cooked parsnips make a delicious component for soups and stews, but they can also be cut and roasted to hold their own on the side of a roast (or as their own side dish).
How to Choose: Select firm parsnips without any discoloration. Pick relatively small ones if possible (4-6 per pound), as larger ones may have a woody core that will need to be removed.
Basic preparation: Same preparation as carrots
Try one of these recipes:
Parsnip Gratin with Gruyere and Thyme from Feasting at Home
Roasted Parsnip and Apple Soup from Flourishing Foodie
Parsnip Parmesan Truffle Fries from Climbing Grier Mountain
Parsnip Couscous from The Fitchen
Tartines of Pear, Parsnip and Blue Cheese from Five and Spice
THE RUTABAGA
The Basics: The result of a cross between a wild cabbage and a turnip, it seems only fitting that these purple-washed giants have a funny name to match their comically large size. The ideal rutabaga is smooth, firm, heavy and without any soft spots. As far as preparation and baking, treat the mighty rutabaga as you would a potato. Their cooked textures are quite similar and, indeed, the rutabaga can fill as a nice lower carb stand-in for the potato in many cases, yet the baked rutabaga has its own unique bitter-sweet taste.
How to Choose: Go for a rutabaga that is smooth, firm and heavy, without any soft spots.
Basic preparation: Peel (with a paring knife), cut into ½-inch cubes and roast for 40 minutes at 400 degrees.
Try one of these recipes:
Hasselback Rutabaga from Florida Coastal Cooking
Maple Glazed Rutabaga from Global Table Adventure
Finnish Rutabaga Bake from Girl Cooks World
Winter Kale Salad with Rutabaga and Kombucha Vinaigrette from Christine Moody of iQ Food Co
THE TURNIP
The Basics: Often, the white-and-purple ombre coloring of a turnip can be almost identical to that of its rutabaga offspring, making it hard to tell the two apart; however, while the rutabaga is characterized by a tough skin, the turnip is rather smooth, and generally not as massive. It is also more tender on the inside, and therefore easier to cut. The turnip has a similar but milder flavor that a little braising brings a long way.
How to Choose: Pick turnips that are firm, undamaged and without any soft spots.
How to Prepare: Peel and cube. Sautee with olive oil for 8-10 minutes, roast for 20-25 minutes at 400 degrees, or boil in salted water for 30 minutes, then mash.
Braised Bok Choy and Turnips from A Thought for Food
Black Rice Fritters with Turnips and Horseradish Cream from Herbivoracious
Sauteed Radishes and Turnips with Orange Butter from A Transplant Life
THE JERUSALEM ARTICHOKE (AKA SUNCHOKE)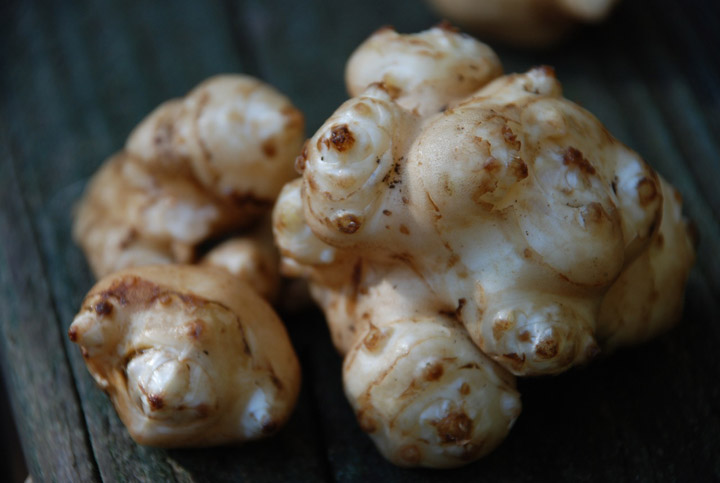 (Photo Credit: kthread via Compfight cc)
The Basics: Too often are these curious, knobbly little fellows overlooked, unexplored or mistaken for ginger. Also known as Sunchokes, these are the root tubers that grow on a certain species of sunflower. If they are young and fresh, you can try them out raw to experience a crisp texture similar to that of water chestnuts (they become starchier as they age). When roasted up golden brown, they develop a soft, melt-in-your-mouth texture along with a slightly sweet and nutty flavor. They are perfect for warm salads, served alongside other roasted veggies, or simply on their own.
How to Choose: Go for sunchokes that are firm and unblemished, with a minimum amount of bumps. The fewer bumps, the easier they are to peel.
Basic preparation: Peel, scrub, halve (or quarter, if large), roast for 40 minutes at 400 degrees
Try one of these recipes:
Sunchokes with a Warm Butter-Lemon Dressing from No Recipes
Roasted Sunchoke and Cauliflower Soup from In Pursuit of More
Sunchoke Beignets from Almond Corner