Stumped on what to do with avocados? Break the mold of using them in the typical guacamole recipe and as a topping for sandwiches, and instead create decadent desserts or savory appetizers sure to turn a few heads. Avocados have rapidly grown in popularity in the past few years, but even more so in the past year — and for good reason.
There are endless ways of using avocados. This green fruit can be frozen, fried, and even blended into a creamy pasta sauce providing both healthy monounsaturated fats and added fiber to whichever dish you decide to make.
These bloggers liven up even the simplest of avocado-based recipes. And while you don't have to live in California to enjoy them, you may just wish you had an avocado tree at your disposal for when the craving strikes.
1. Blend it for a creamy filling
Avocado Deviled Eggs: A trifecta of green goodness from the avocado, parsley, and lime, lighten this classic party appetizer. (Recipe and photo: Mother Thyme featured on NoshOn.It)
2. Use it as a dip other than guacamole
Avocado-Tahini Dip: Warm triangles of pita bread or gather a selection of crisp fresh veggies for this twist on hummus inspired by Latin American flavors. (Recipe and photo: Marin Mama Cooks)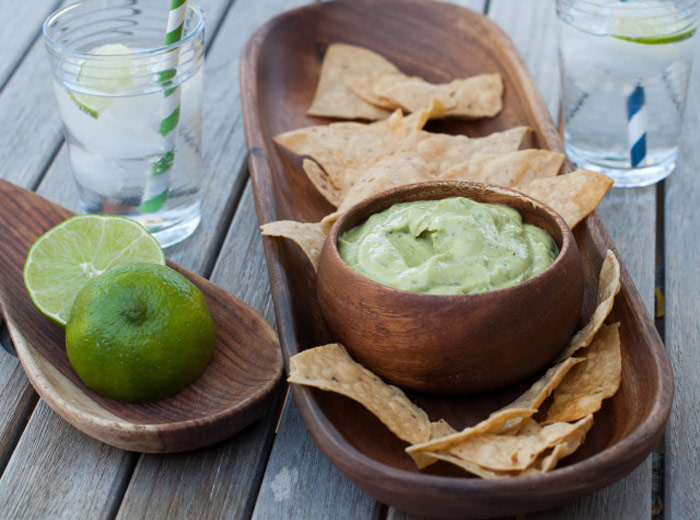 3. Puree it into a sauce
Sweet Potato Hash with Creamy California Avocado Sauce: Mix up this brunch staple with a sauce that packs in as much protein as it does flavor with a base of avocado and greek yogurt. Garlic and lime juice add just enough kick to make it a standout accompaniment to the sweet potato hash. (Recipe and photo: Cookin' Canuck)
4. Turn it into pasta sauce
Avocado and Goat Cheese Alfredo Pasta: Pure flavor and never a hint of guilt, the avocado keeps this pasta sauce creamy while the goat cheese provides a nice tang. (Recipe and photo: Closet Cooking)
5. Throw it on the grill for a nice char
Grilled Avocado Bar: The grill isn't just reserved for meat and vegetables. Try throwing a few avocado halves seasoned with lime juice, salt, and pepper on a grill pan or directly on the barbeque for achieving that quintessential char. (Recipe and photo: Perpetually Chic)
6. Fry it for easy dipping
Avocado Fries with Cilantro Lemon Dipping Sauce: Are these next in line after the ever so trendy sweet potato fries? This healthy alternative to divinely tempting french fries, adds cilantro and citrus to brighten up the flavor of the sauce. (Recipe and photo: Adventures in Cooking)
7. Bake it with eggs
Baked Sunny Side Up Avocado: Serving as individual baking vessels for your eggs, this is one the easiest recipes of the group. By the time you finish making a cup of coffee and a side of toast, you'll be basking in how speedy your new impromptu breakfast. (Recipe and photo: Pick the Cook)
8. Mix up your smoothie routine
Mango Avocado Smoothie: The addition of avocado makes this smoothie satisfying, and can be thrown together for a quick breakfast on the go. (Recipe and photo: Eat Yourself Skinny)
9. Use it in desserts
Easy Avocado Hazelnut Chocolate Mousse: Decadent and equally rich, this almost raw dessert will certainly entice any chocolate lover. The use of hazelnut liqueur takes this recipe from delicious to out of this world. (Recipe and photo: Produce on Parade featured on NoshOn.It)
10. Freeze it into ice cream
Avocado Ice Cream: The use of whole milk, heavy cream, and sweetened condensed milk, lend an element of creaminess to this ice cream similarly found in Tres Leches Cake. Refreshing lime juice balances out the richness of the dairy and will make you want to make this all year long. (Recipe and photo: Girl Cooks World)
What are your favorite ways of using avocados? Let us know in the comments!