More protein! Less carbs! Less fat! More fruits and veggies, they say! With all of the advice around how to eat healthier at home, one of the things we've found is that many people save seafood for a special night out or only the occasional dinner at home. We're hoping to help you change that.
The truth is that, when chosen properly, you can have a delicious, healthy, and affordable dinner using seafood if you just know what to look for. The problem is that it's becoming harder and harder to know what types of seafood are good to buy. Is farm raised ok or is wild caught the only way to go? Is this fish sustainable? Is one type of fish healthier than another? What should I choose for a certain recipe?
One of our new favorite fishes that you may not have heard about before is barramundi. Similar in texture to a Chilean sea bass (but much more sustainable), barramundi is native to Australia and New Zealand but is now being raised using innovative Smart Aquaculture techniques that make it sustainable enough to be a "Best Choice" on the Monterey Bay Aquarium Seafood Watch. It's firm and meaty in texture, high in Omega-3 fatty acids (the good fat), and with half the calories of the often-used salmon.
(Photo courtesy of Jelly Toast)
Recently, Trader Joe's started carrying barramundi across the country in it's frozen section. If you don't have a Trader Joe's near you, you can also find it at Whole Foods and other retailers.
One of the reasons that barramundi is gaining popularity in the U.S. is not only because it's affordable and healthy, but it's also incredibly versatile. It's firm and meaty enough to stand up to bold flavors like Thai, Mexican, and Cajun spices but also delicate enough to enjoy simply seared.
This year, we've teamed up with a leading barramundi producer and 8 wonderful food bloggers from our Featured Chef network to bring you a series of inspiring recipes using barramundi. The bloggers, who you can meet below, will be posting the recipes on their sites and we'll be sharing them here as well. Over the next few months, look for more recipes and posts like this one to see why barramundi is quickly becoming one of our new favorite fishes.
It's like your favorite fish taco emptied into a bowl. Lindsey spice rubs then pan sears the barramundi and serves it on top of brown rice with salsa, avocado, cabbage, and lime. Perfect for a Tex-Mex inspired meal. (Recipe and photo: Cafe Johnsonia)
Not quite a thick curry like you may be used to in Thai cuisine, Laurie lightly poaches barramundi in a flavorful red curry broth and serves it with quickly sautéed spinach for a healthy meal that's elegant enough for company. (Recipe and photo: Simply Scratch)
Did you know you can use your panini press for more than just sandwiches? Carolyn coats filets of barramundi with an intense, homemade Cajun seasoning blend before searing the fish right on her panini press. (Recipe and photo: All Day I Dream About Food)
Cooking fish en papillote (baked in a parchment paper pouch) is one of the best ways to keep it moist and tender while infusing it with flavor. Emily creates individual, customizable pouches of barramundi with bell peppers, meyer lemon, and red onions for a bright and light dinner that can go straight from the oven to the table. (Recipe and photo: Jelly Toast)
Instead of ordering takeout, create your own Thai yellow curry at home. Amy cooks pieces of barramundi in a sauce of curry paste and coconut milk with potatoes and carrots. Served over steamed rice, this dish is a delicious way to enjoy barramundi with a Thai flare. (Recipe and photo: Very Culinary)
Meet your Taco Tuesday recipe for the week. Lauren rubs and sears barramundi with her own spice blend then stuffs the fish into tortillas with her favorite Spanish rice and a cooling chipotle cream sauce. An entire meal wrapped up in a tortilla. (Recipe and photo: Climbing Grier Mountain)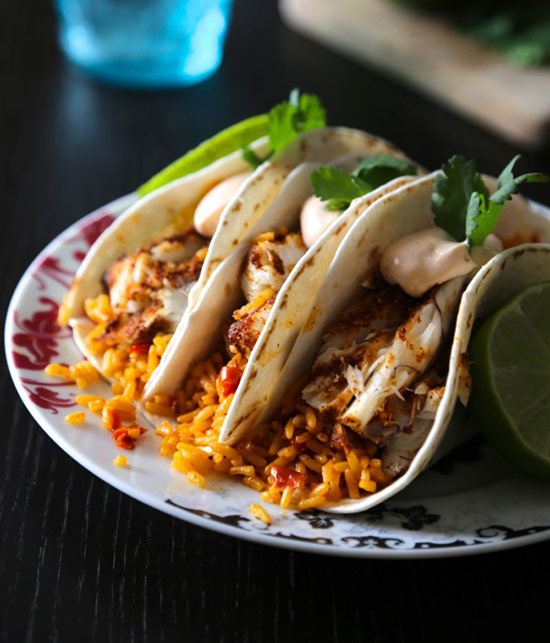 Consider these foil en papillote. Instead of using parchment paper (which you may not always have on hand), Dara cooks this barramundi in packets of foil with Asian flavors and bok choy for a colorful, healthy dish.(Recipe and photo: Cookin' Canuck)
Look no further for your next date night meal at home. Kelli shares her best tips for how to get the crispiest skin on the barramundi and pairs the fish with an easy-to-make sauce of white wine, butter, and red curry paste. Topped with a cilantro gremolata (minced cilantro, ginger, lemon, and garlic), this is a show-stopping plate that's actually much easier to make than you might think. (Recipe and photo: The Corner Kitchen)
What are some of your favorite ways to enjoy fish at home?
Have you ever tried barramundi?
(Disclaimer: this post is sponsored by one of our clients, a leading barramundi producer as part of a marketing campaign. We only work with brands that we support and use ourselves and we thank you for supporting these posts so we can continue to bring you great content.)