Think that risotto should be left to experienced chefs in restaurants and not to the home cook? Many people assume risotto is too difficult to tackle at home, but we've broken down the recipe to make it perfectly creamy yet al dente every time. Using just the right proportions of each element yields satisfying results.
An Italian classic, risotto is humble comfort food at its finest, with only two basic ingredients, rice and stock. It can be made in 30 minutes and serves as an excellent canvas for any combination of ingredients, and that is the beauty of making risotto. At its core, risotto is both intensely flavored and refined, but it is easy to overcomplicate it with multiple ingredients. Highlighting it with just a few standout ingredients will make all the difference.
Similar to many long-cooking soups, stews, and sauces, the secret to great risotto is cooking the rice and stock low and slow, stirring to avoid clumps and allowing time for the starch from the rice to release and turn the dish silky and rich. You'll want to take the cue of chefs and set up a mis en place before starting to make sure that the cooking process goes smoothly. All of that constant stirring will produce a velvety risotto that is fluid and holds it own against other dishes.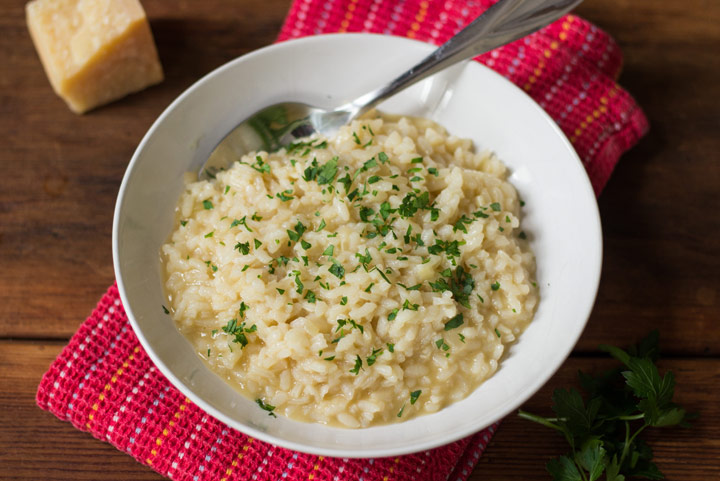 While risotto is fantastic on its own, you can also serve it as a side to dishes like Osso Bucco and Roast Chicken. Although risotto is best served warm, you can easily turn leftovers into a new meal. Just form chilled risotto into patties and pan fry for risotto cakes, or form into balls, bread, and deep fry for Arancini di Riso.
Just because we get down to the basics doesn't mean that you can't dress up this recipe. Each component features specific methods to set you up for success. Once you've mastered the fundamentals, you'll be able to serve this for a relaxed family gathering or for a Friday night dinner with friends.
Each step in cooking risotto has an essential components associated with it, and we have broken those steps down so that you are able to master each one like a pro.
Soffrito: Base flavorings
Traditionally, butter is used to saute the onions and toast the rice grains, but we like to use a combination of half butter and half olive oil. For a unique flavor, try an olive oil infused with basil or chili flakes.

To ensure that the risotto comes out as delicate as possible, we like to stick with white or yellow onions, and mince them so that they melt into the risotto as it cooks. If you have access to or have the patience to peel shallots, you can use those to enhance the flavor even more.

Some Italians mention that they never put garlic in risotto, but that's one option we could never forgo! Make sure to mince the garlic as finely as possible as well, so that there aren't large chunks floating around.
Tostatura: Rice
When getting down to the basics of making risotto, arborio rice is what is most widely available to Americans, whereas Italians have a much larger selection. If you feel the urge to branch out past arborio rice, carnaroli is another excellent, option, if not better. If is hailed as the "king" of risotto rice amongst Italians.
Rice should be toasted so that each grain is coated in butter and oil in a pan to enhance the flavor of the risotto and to help it hold its shape during the cooking process. Toasting any spices and other aromatics help to release their flavors early on in the cooking process as well.

Outside of risotto rice lies a land of many options, and if you're trying to include more whole grains into your diet, brown rice, farro, and bulgur are nice alternatives. Whole grains tend to cook longer, and every type is different, therefore you may need to adjust the liquid and cooking time of this recipe to ensure a creamy risotto.
Cottura: Liquid
This step is by far the most cumbersome for risotto novices. Questions circulate around the ratio of liquid to rice, what type you should use, and how often to add it in.
The essential elements of the liquid component are to use dry white wine and either vegetable stock or chicken stock.

The quantity of white wine is the dish is fairly small compared to the stock, because you are essentially drawing out the flavor of the wine. Save the leftover bottle of wine to drink for when you're ready to serve the risotto.

We found that a high ratio of liquid to raw rice, about 6:1, produced the most luxurious outcome. So, you should have six cups of liquid on hand for each cup of raw rice used, though you may not need to use all of it.

Add liquid one ladleful — roughly ½ cup — at a time until it is absorbed into the rice mixture. Each addition should be done just before all of the liquid is absorbed into the risotto.

It is important to keep the liquid hot during the entire cooking process. Before you begin, in a 4-qt saucepan, bring the stock to a low simmer on a second burner to make sure that it is ready to go when you start the recipe.
Mantecatura: Finishing Steps
Finishing steps are what take good risotto to great risotto. Just like the rest of the ingredients you use up until this point, the final ones are just as important as they will have a stronger impact on the final flavor as compared to the rest of the ingredients used.
This is when you'll want to use the best cheese, ideally parmigiano reggiano, to amp up the creamy factor.

The last bit of butter will impart a richness that balances nicely with the cheese.

If you really want to take the richness in this dish to the next level, the addition of unsweetened whipped cream or mascarpone adds a nice touch.
Creative Add-Ins
This is where the fun part comes in! While we love the classic version of risotto, creative flavor combinations can mix things up. Here are some combos we love:
Puree 2 cups of defrosted frozen peas with 2 cups of hot broth and add this to your liquid towards the end of cooking for a green risotto.

Let dried mushrooms soak in the hot broth for a mushroom-flavored risotto then add the chopped mushrooms at the end.

For Tuscan Risotto, pan fry chopped steak and chicken livers and add them at the end.

For a coastal touch, add clam juice, clams, shrimp, and chopped tomatoes 10 minutes into cooking. To finish, cook for 10 more minutes.

Welcome Spring with the addition of grated zucchini halfway through cooking and finishing the juice and zest of one lemon.
Now, let's see how to make it …
The core ingredients
Make sure you have the right kind of rice. Short grained arborio rice will hold it's shape but will also release enough starch to become creamy. Also, make sure you have a second saucepan with the broth heated and on low.
Step 1
Melt equal parts of extra virgin olive oil and unsalted butter in a large saucepan then add in 1 small finely diced yellow onion, 2-3 cloves of minced garlic, and a teaspoon of salt. You want the onions and garlic to soften, but not brown.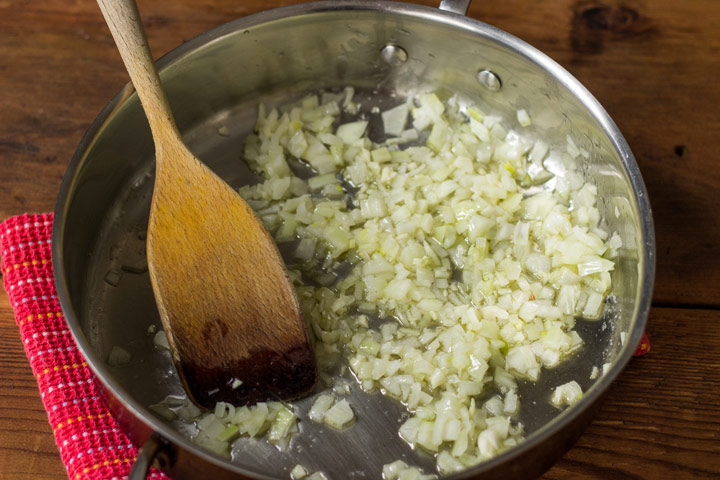 Step 2
Toast the rice along with the onions and garlic for 3-4 minutes. You'll notice that the edges of the rice become translucent and the color is slightly browned.
Step 3
Keeping the pan on medium heat, add 1/2 cup of dry white wine (we used Pinot Grigio) to the pan and allow it to reduce, stirring frequently.
Step 4
When the wine has been almost fully absorbed, add 1 ladle of the hot broth and stir. The mixture should be lightly bubbling. Continue to stir every minute or so.
Step 5
Once the broth has nearly evaporated, you're ready to add another ladle of broth. You can test this by pulling the rice back with a wooden spoon. If no liquid seeps into the space you've just cleared, it's ready for more liquid.
Step 6
Continue this process, adding broth 1 ladleful at a time. After about 10 minutes, this is what it will look like. The rice is starting to soften but you can tell that it's not yet fully cooked.
Step 7
After 20-25 minutes, the rice will look like this. By this point, you should have use up nearly all, if not all of the broth.
Step 8
This is our secret for testing if the rice is done (apologies for the very mediocre picture!). Take a grain of rice and smash it against a cutting board like you're squashing a bug. If you see a lot of bright white spots (that are hard) in the middle of the grain, this means the rice is not fully cooked. If the rice smashes fully or if you see the slightest dot of white in the middle, then the rice is al dente and ready.
Step 9
To finish, add a handful of grated parmigiano reggiano cheese and a few pats of butter and gently stir to incorporate off of the heat. Serve immediately.
Garnish with chopped parsley, an extra grating of cheese, and you're ready to eat! The risotto is perfectly creamy, but not soupy. It has just enough liquid to hold it together but not so much that it can't stand up in a bowl.
The grains of rice have thickened to become creamy, but they still hold their shape and have a toothsome bite.
It just may be the perfect dish.
To wrap everything up, let's review our 5 essential tips to making classic risotto every time:
Have all of your ingredients prepped ahead of time to make sure that the cooking process goes smoothly.

Toast the rice grains and any spices before adding the liquid to deepen the flavor and help the grains hold their shape.

Keep the broth hot so the that heat of the risotto remains consistent while cooking. Make sure to add the liquid to the risotto one ladleful at a time; it should not be soupy or runny.

Cooking risotto is similar to cooking pasta, you want it to be al dente. Here's how to tell when risotto is done, so that it isn't overcooked.

Breathe and enjoy the process! This is the time to reflect upon your day or share a glass of wine with a friend or significant other.
Ready for the recipe?