Jews everywhere are preparing for Passover, the eight days that commemorate the emancipation of the Israelites from slavery in Ancient Egypt. Preparations include ridding the house of all chametz — any food or drink containing even a trace of wheat, barley, rye, oats, or spelts — and anything that has been leavened or fermented. Out goes bread, cake, cookies, cereal, and most alcoholic beverages. In comes matzo, pronounced "Mat-zah." This thin, unleavened bread symbolizes that which the Jews ate during their flight from Egypt. They left so suddenly, their bread didn't have time to rise.
Matzo isn't exactly a go-to ingredient of choice for gourmets. Many loathe the stuff, comparing it to tasteless cardboard, but some love matzo for its incredible versatility and undeniably satisfying crunch. You see, matzo makes a fantastic blank canvas for plenty of delicious dishes. All it takes is a little creativity.
Here are 13 of the most innovative and fun matzo recipes we've come across to make your Passover season a bit more flavorful.
Your bubbe's staple Passover breakfast turned quiche. (Recipe and photo: Mango & Tomato)
Make a matzo cup, fill with matzo brei, and top with jam. (Recipe and photo: Cupcake Project)
Add some kosher for Passover crunch to your morning yogurt. (Recipe and photo: Young Idealistic Baker)
A little dill adds a boost of refreshing green to your soup. (Recipe and photo: The View from Great Island featured on NoshOn.It)
Spice up the classic dish with saffron, cayenne, and lemon. (Recipe and photo: Little Ferraro Kitchen)
Sauce + cheese = pizza, no matter what it's layered on. (Recipe and photo: Skinny Taste)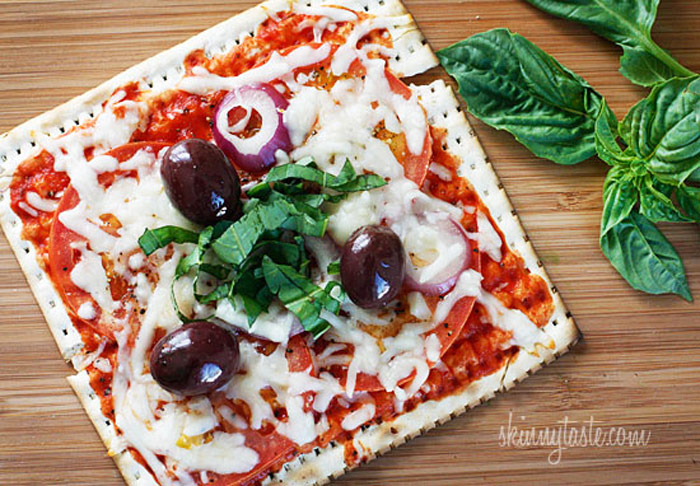 Some clever troubleshooting makes sandwiches (and wraps) kosher. (Recipe and photo: Panini Happy on The Shiksa in the Kitchen)
No pasta? No problem. (Recipe and photo: Matkonation)
Matzo balls aren't just for soup. Try some with a dipping sauce. (Recipe and photo: What Jew Wanna Eat)
Who needs bread stuffing, when you've got this crunchy filling? (Recipe and photo: Little Ferraro Kitchen)
Classic, elegant, and beautiful. Everything you need for dessert. (Recipe and photo: Get Off Your Tush and Cook)
All the colors of spring, and totally delicious. (Recipe and photo: 1 Fine Cookie)
If matzo and candy bars got together… (Recipe and photo: gluten free canteen)