With spring in the air, it's time to start thinking about fresh and healthy meals that are still inspired and, of course, delicious! And for us, that includes putting aside some of the heavier meats (at least until prime grilling season comes around) and looking towards more fish and shellfish. Have you ever seen a fish recipe that calls for "firm-fleshed white fish" and wondered what type to use? Is inexpensive tilapia sufficient or should you splurge on halibut? And what about cod? Where does that fall? These are all fair questions. Lately, we've been turning towards barramundi as our fish of choice when answering these questions because it combines the best of all of these worlds. It's affordable, has a firm white flesh and buttery texture, can be used with or without the skin, and is packed with plenty of healthy Omega-3s. And better yet, you can now find it in the frozen section Trader Joe's!
We know what you're thinking. Fresh meals that involve frozen seafood? Yes! Unlike other types of seafood that may have been sitting at the fish counter for who-knows-how-long, most of the barramundi you'll find in the U.S. is frozen using special techniques when it's at it's best so it maintains its taste, texture, and freshness for an extended period of time. Also, since it's a hearty, meaty fish
(Photo courtesy of Jelly Toast)
We've shared a number of barramundi recipes here and here before and today, we're bringing you 8 new and fresh recipes that just might be our best bunch yet! These recipes truly show how barramundi can be used for just about any type of preparation.
Skip the pasta and pour a classic puttanesca sauce on top of quickly broiled fillets of barramundi (Recipe and photo: Cafe Johnsonia)
You call it chowder, we call it chow-dah! Laurie simmers chunks of barramundi in this bacon and old bay infused chowder topped with crunch croutons. (Recipe and photo: Simply Scratch)
When one of those days that only tomato soup will do, Carolyn's created this spicy, hearty bisque with barramundi that's both low carb and gluten free. (Recipe and photo: All Day I Dream About Food)
Fire up the grill (or the broiler) for these skewered fish-and-veggie kabobs dusted with a mix of Moroccan-inspired spices. (Recipe and photo: Jelly Toast)
Let the flavor and texture of the fish shine through in this quick barramundi recipe paired with a colorful and fresh fruit salsa.. (Recipe and photo: Very Culinary)
Infuse your dinner with the flavors of India with this curry-spiced barramundi served with a fragrant and spicy tomato-ginger sauce. (Recipe and photo: Climbing Grier Mountain)
You've heard of chicken and veal marsala, but fish marsala? Barramundi is the perfect base for a rich mushroom and Marsala wine sauce. (Recipe and photo: Cookin' Canuck)
Grown up fish sticks are now a thing. Kelli coats strips of barramundi with panko then bakes them until crispy. On the side is a fiery homemade aioli with harissa. (Recipe and photo: The Corner Kitchen)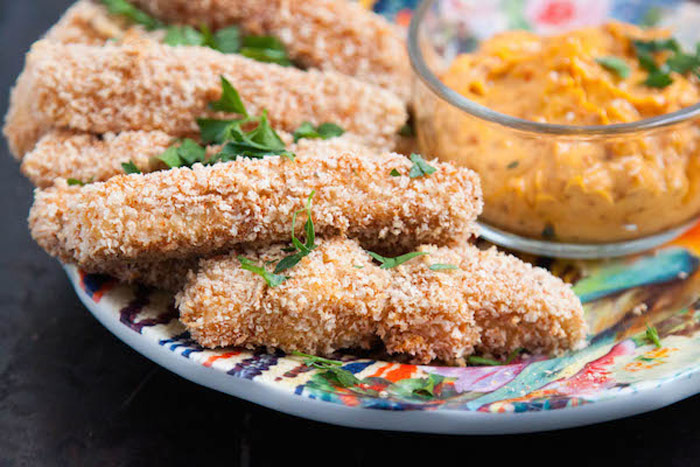 What are some of your favorite fish recipes? Let us know in the comments!
(Disclaimer: this post is sponsored by one of our clients, a leading barramundi producer as part of a marketing campaign. We only work with brands that we support and use ourselves and we thank you for supporting these posts so we can continue to bring you great content.)