For many of you burger lovers out there, there's nothing quite like hitting up the drive thru or heading down to your hometown's most beloved burger joint, where you not only can recite the menu by heart, but know exactly what you want and take pride in ordering it like a real pro. In terms of both fast food chains and restaurants specializing in awesome burgers, opinions differ all over the map about who does it best, often ending in heated, loyalty-driven debates. Some of the country's most sought after burgers attract worldwide cult followings, but are unfortunately available only to a limited geographical audience. Wouldn't it be nice to know how to replicate those at home? We've collected 6 copycat recipes created and tested by burger-loving home cooks struck by the very same idea. Here's how to make your favorite restaurant burgers from the comfort of your own kitchen.
This post is part of:
With locations in just five states (including, of course, its birthplace, California), it's possible that you haven't yet been afforded the pleasure of visiting an In-N-Out. Even so, there's no doubt that a west-coast-savvy someone has let you in on the "secret" of always ordering your burger "animal style," which, let's be honest, isn't really much of a secret at this point.
What makes this special: This inspired spread was created by California-based blogger, Jackie, as part of an effort to master her favorite local cuisine while contemplating moving out-of-state. Her outdoor burger bar goes above and beyond, fully equipped with the fixings for a Double Double, an "Animal-Style" Cheeseburger, and even the unofficial "Monkey-Style" adaptation. (Recipe and photo: The Seaside Baker)
Founded less than a decade years ago in Denver, Colorado, Smashburger may be relatively new to the game, but they aren't messing around. Their secret is not only in the signature smash, which creates a tender and juicy patty by introducing loosely packed meatballs to a custom-designed "burger smasher", but in the use of well-seasoned, fresh beef, and an itty bitty bit of butter. The end result? Think big, bold, and messy.
What makes this special: In this take on the Smashburger, Deborah stirs up her own delicious smash sauce and makes a few tweaks to the recipe, which include opting for fluffy brioche buns (yum). She links to a video demonstration of the authentic smashing technique, of which she now swears by, and which turns out to be interestingly similar to cooking a pancake (hint: this will not work on the grill). (Recipe and photo: Delicious Happens)
When you think of cheeseburger sliders, your mind might travel to White Castle, the inventors of the slider (did you know?), whose menu peaked in popularity during a time when it was still cool and current to throw around Harold and Kumar references. If you're from Jersey, however, it's likely your loyalties lie with contender White Manna Hamburgers, famous for satisfying appetites with their own classic sliders.
What makes this special: Jillian and Malcolm know that an authentic slider is so much more than a miniature burger or sandwich, and will save you from embarking on that perilous quest to White Castle. It actually has less to do with the size, and is all about the technique, relying on some serious steam action. It goes a little something like this: thin-pressed beef cooked on a bed of caramelized onions, flipped over and stacked with both sides of the bun, which warm and simultaneously absorb all of the delicious vapors. (Recipe and photo: From Away)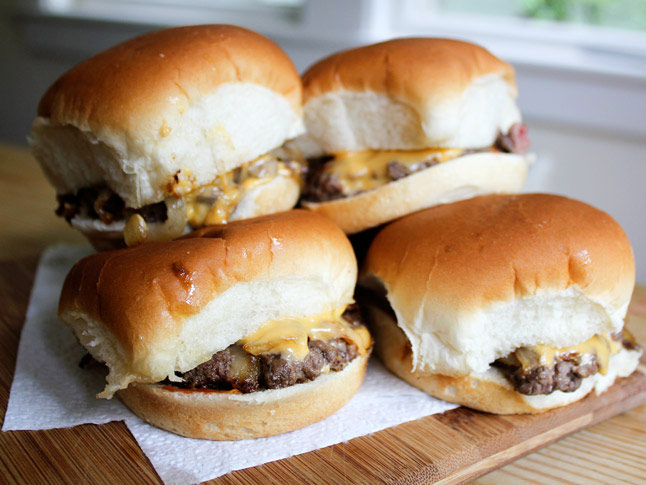 Far from a stranger to the grill and the art of burger-making, Bobby Flay is famous for creating bold and delicious burgers with complex flavors, which can be experienced firsthand at his casual burger bar in New York City, Bobby's Burger Palace. It is known for the Crunchburger, but you can "crunchify" (read: add potato chips to) any menu burger you like.
What makes this special: As a member of the Pass The Cookbook Club, in June of 2013, Erin was faced with the task of choosing from three pre-selected recipes from Flay's burger cookbook. Unable to choose, she created a hybrid using elements from different burgers. She made sure to include that signature layer of potato chips, resulting in a custom crunchified burger of her very own. (Recipe and photo: Dinners, Dishes, and Desserts)
Shake Shack's humble beginnings trace back to its food cart days in New York City's Madison Square Park at the turn of the new millenium. Somewhere between now and then, a cart became a stand, and a stand eventually blossomed into an East Coast burger enterprise known for its secret sauce and long lines of loyal (and hungry) customers. In terms high quality fast food cuisine, Shake Shack is to the East Coast what In N Out is to the West.
What makes this special: Dani came up with these mini mouthfuls in an effort to recreate her own enjoyable Shake Shack experience. Her sauce mirrors the chain's coveted concoction, with its unique blend of condiments and spices. While these were created in preparation for football season, they are certainly suitable for any and all grilling occasions. (Recipe and photo: The Growing Foodie)
Cheese is a key element in many a burger. You may be familiar with the brilliant phenomenon that is tucking your cheese inside of the patty, which makes for the gooey-est of delicious cheesy bites. If you're from Minneapolis, you'll know that a burger of this preparation has been coined by the term "Jucy Lucy" or "Juicy Lucy," depending on who you believe to be the true inventors, traditionally sporting cheese both inside and outside.
What makes this special: With a recipe created in reminiscence of their visit to the twin cities, Todd and Diane lead you through the step by step process of folding up the perfect cheese-stuffed burger, using aged cheddar cheese in place of standard american. They provide a personal touch and add a rich, savory taste by using their own Umami burger base. As you may be able to guess, the result is rather juicy. (Recipe and photo: White On Rice Couple)