Between twinkling lights, thoughtful gifts, the prospect of a "White Christmas," and the opportunity to spend quality time with loved ones, there is much to appreciate about the holiday season. Adding to our cheer is an abundance of festive cookies, gracing dessert spreads at holiday parties, and filling our kitchens with irresistible scents (also to be found snuggled up cozily in gift baskets). Homemade cookies are a delicious way to spread smiles to those around you… But what to bake this year?
We asked a bunch of our favorite bloggers what type of cookies they leave out for Santa. We then gathered their answers in a master list that also includes our own top picks from the cookie-loving blogger community.
Whether you are loyal to a year-round classic, can't stop daydreaming about peppermint and gingerbread, or want to try something totally different, read on for trusted recipes, family traditions, and inspiration.
1. Quick and Easy Peppermint Bark from Yummy Supper
2. Grandma's Biscotti from Brown Eyed Baker
3. Perfect Chewy Chocolate Chip Cookies from Jocelyn of Grandbaby Cakes

4. Gluten Free Almond Biscotti from Fit Foodie Finds on NoshOn.It
5. Coconut Cookies from Kitchen Confidante
6. Triple Chocolate Truffle Cheesecake Cookies from Half Baked Harvest
7. Easy Molasses Crinkle Cookies from Audra of The Baker Chick:

8. Chewy Chocolate Gingerbread Cookies from Handle the Heat
9. Peppermint Truffle Brownies from The Kitchen Prep
10. Dark Chocolate Dipped Orange Macaroons from Running to the Kitchen
11. Gooey Butter Cake Cookies from Dessert for Two
12. Lemon Rosemary Shortbread from Linda of The Tart Tart 

13. Grandmom's Pecan Sandies from The Messy Baker
14. Maple Walnut Fudge from Girl Cooks World
15. Raspberry Almond Thumbprint Cookies from Sally's Baking Addiction
16. Gingerbread Biscuits from Sara of Belly Rumbles

17. Chocolate Hazelnut Crinkle Cookies from Baking A Moment
18. Chocolate Peanut Butter Cinnamon Squares (No Bake) from Boulder Locavore
19. Peanut Brittle from She Wears Many Hats
20. Nutella Eggnog Cookies from Roxana of Roxana's Home Baking:

21. Bourbon Pralines from The Vintage Mixer
22. Chocolate Croissant Cookies from Spicy Southern Kitchen
23. Chewy Gingersnap Cookies from Annalise of Completely Delicious

24. Smoky Cardamom Ginger-Molasses Cookies from Reclaiming Provincial
25. Sour Cream Cut-Out Cookies from My Baking Addiction
26. Chocolate Raspberry Rugelach from Ambrosia Baking
27. Peppermint Bark Brownies from Mother Thyme featured on NoshOn.It
28. Lemon Snowball Cookies from Carla of Chocolate Moosey:

29. Eggnog Cranberry Swirl Cheesecake Bars from Baked By Rachel
30. Maple Sugar Cookies from Bless This Mess
31. Dark Chocolate Pistachio Cranberry Clusters from A Couple Cooks
32. Chocolate Peppermint Meringue Trees from Allie of Baking a Moment:

33. Italian Christmas Ricotta Cookies from The Clever Carrot
34. Salted Caramel Dark Chocolate Cookies from The Candid Appetite
35. Cherry Nougat Cookies from Dinners, Dishes and Desserts
36. The Best Homemade Fudge from Heidi of FoodieCrush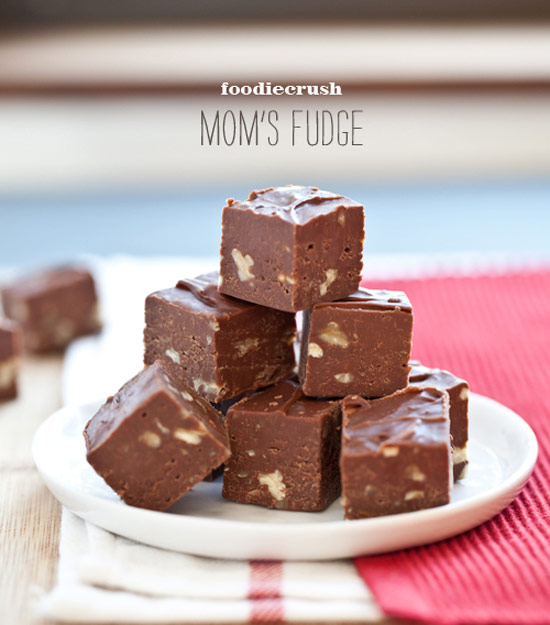 37. Brown Butter Snickerdoodles from Ambitious Kitchen
38. Double Chocolate Cranberry Hazelnut Holiday Cookies from My Man's Belly
39. Honey and Ginger Pfeffernusse from The Sugar Hit
40. Ginger Creams from Tiffany of Thyme of Taste:

41. Toasted Pecan and Penuche Cookies from Creative Culinary
42. Peanut Butter n' Jelly Thumbprint Cookies from Little Ferraro Kitchen
43. Pomegranate Orange Chocolate Bark from The Stay At Home Chef
44. Cinnamon Cranberry Oatmeal Cookies from Fabtastic Eats
45. Dark Chocolate Almond Florentines from Alexandra of Confessions of a Bright-Eyed Baker:

46. Sparkling Toffee Cookies from Jelly Toast
47. Peppermint Chocolate Fudge from A Zesty Bite
48. Eggnog Truffles from Taste and Tell
49. Almond Flour Snickerdoodles (Gluten Free) from Meaningful Eats on NoshOn.It
50. Vanilla Bean Christmas Sugar Cookie from Lauren of Lauren's Latest: