Ring in the New Year with 9 Champagne Cocktails
Ring in the New Year with 9 Champagne Cocktails
Bubbly gets a makeover
Nothing screams "celebration" like a tall glass of bubbly and with New Year's Eve around the corner, there are many toasts to be made. This year, instead of pouring just a plain glass of champagne, cava, or prosecco, try out one of these unique champagne cocktails from some of our favorite bloggers to impress your guests and ring in the New Year with style.
Sometimes you can't beat a classic. This Classic Champagne Cocktail from Kitchen Riffs goes way back to the 1800s – moisten a sugar cube with bitters then top it off with bubbly.
Photo & Recipe: Kitchen Riffs
One of our favorite champagne cocktails is this French 75 from Ring Finger Tan Line because it's the perfect blend of tangy, bitter, bubbly and sweet with simple syrup, gin, champagne, and lemon juice. Easy to make and such a crowd pleaser!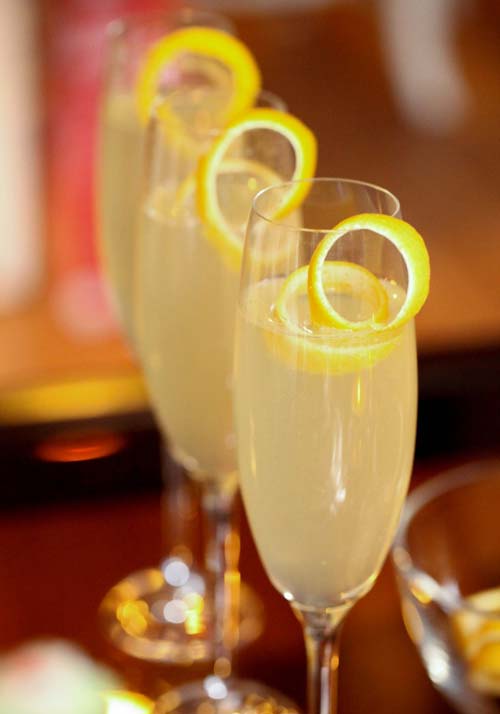 Photo & Recipe: Ring Finger Tan Line
If you start the night before, you can infuse your own vodka with basil (trust us, it couldn't be simpler) then top it with champagne for an herbacious Basil Vodka Fizz from Bites and Sights.
Photo & Recipe: Bites and Sights
Our friends Dulcie and Sarah from Two Tarts always whip up the most gorgeous, elegant drinks like this Ruby Yacht Cocktail that gets a beautiful reddish-pink hue from pomegranates. They even show you how to easily make your own fresh pom juice here!
Photo & Recipe: Two Tarts
Make your own DIY Fresh Fruit Champagne Cocktail bar using this tutorial from Ode to Awe. Make a few different fresh fruit purees using your favorite seasonal fruits (orange and grapefruit would be delicious!) and leave it out for your guests to mix themselves.
Photo & Recipe: Ode to Awe
Having an elegant soiree? This Royal Resolution from Valley & Co. Lifestyle is sure to impress with muddled berries and mint, vodka, and Chambord. Top it all off with a splash of champagne for a deep-purple sip to set a sultry night in motion.
Photo & Recipe: Valley & Co. Lifestyle
Want to drink pink this New Years Eve? Topping a classic cosmo blend with champagne in this Champagne Cosmopolitan from Joanne & Adam at Inspired Taste for a light drink that tastes great but will (hopefully) keep things from getting too out of hand.
Photo & Recipe: Inspired Taste
You've heard of a Black & Tan but have you tried this Black Velvet from the cocktail masters (and superb historians) at 12 Bottle Bar? Champagne is carefully layered over Guinness for a 2-level cocktail that is unique, delicious, and beautiful.
Photo & Recipe: 12 Bottle Bar
Mixing drinks for a crowd can be challenging but not when you can pre-make a few pitchers of this Pomegranate Champagne Punch that has pear nectar for a subtle sweetness, pomegranate juice for tartness and color, and, course, several bottles of your favorite bubbly.
 Photo & Recipe: Pixelated Crumb
With a little bit of planning, most of these drinks can be prepped ahead of time so you can mix them up quickly throughout the night, leaving you plenty of time to be the host or hostess with the mostess (it's a real word, we swear). And ever wondered if champagne is actually healthy? Our friends at Greatist have the answer. Wishing you guys a very Happy New Year!
Get more hand-picked recipes and cooking tips right in your inbox.