9 Gluten Free "Pasta" Recipes using Spaghetti Squash
" Spaghetti squash is in season right now and it's the perfect addition to a gluten free diet. After roasting and scooping out the insides, threads of spaghetti squash can take the place of pasta in nearly any dish. Here are 9 of our favorites. Vijay, Recipe Hunter "
9 Gluten Free "Pasta" Recipes using Spaghetti Squash
The magical versatility of seasonal spaghetti squash
As Fall rolls around, so does the abundance of squash and pumpkins appearing at the market. Zucchini and summer squash go away and instead, we have mound of butternut squash, acorn squash, delicata squash, and pumpkins. Today, we're going to focus on a favorite ingredient in a gluten free kitchen's repertoire – spaghetti squash!
The magical thing is that once spaghetti squash is roasted, the fibrous, crunchy strands inside can be scraped out of the shell to create long, thin "noodles" that resemble pasta. Also, since it has a pretty mild taste, spaghetti squash is extremely versatile, lending itself to all kinds of recipes. Here 9 creative and gluten free ways to use spaghetti squash that we're craving right now.
First things first. Most spaghetti squash recipes start with having you roast the squash until it's tender and you can scrape out the strands inside. You'll see many different techniques on how to cook spaghetti squash but this is our preferred foolproof method.
1. Easy Spaghetti Squash Pasta
Simple and easy, this "pasta" recipe tosses roasted spaghetti squash with extra virgin olive oil, fresh basil, salt, and pepper. (Recipe and photo: The Fitchen)
2. Spaghetti Squash Noodle Bowl with Lime Peanut Sauce
This Asian-inspired noodle will have you thinking of summer at any time of the year. Topped with broccoli, cashews, and herbs, it's really the addictive lime peanut sauce that makes this dish sing. (Recipe and photo: The First Mess on NoshOn.It)
3. Purple Kale, Cilantro, and Spaghetti Squash Cakes
These appetizer size baked fritters are loaded with fresh herbs, kale, spaghetti squash, and spices. Served with an avocado sriracha dipping sauce, these are the perfect start to a meal or an hor d'oeuvre for a cocktail party. (Recipe and photo: Dolly and Oatmeal)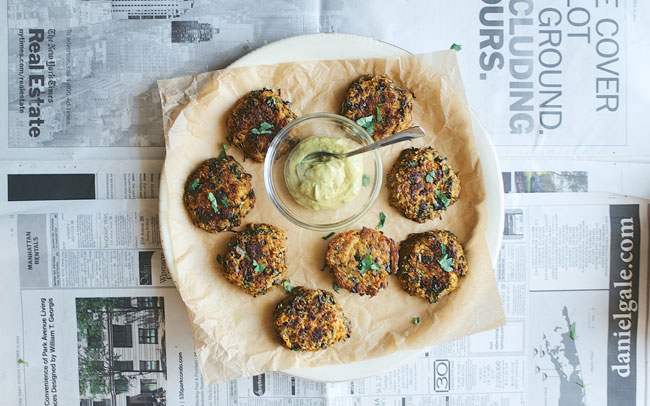 4. Mediterranean Spaghetti Squash
Toss spaghetti squash with tomatoes, feta, and olives for a Mediterranean-inspired meal that's delicious on it's own, but you can also top it with grilled chicken, fish, or shrimp for something more hearty. (Recipe and photo: Garnish with Lemon)
5. Spaghetti Squash with Garlic, Bacon, and Parmesan
Bacon does make everything butter, doesn't it? With only 4 ingredients, this pasta dish couldn't be simpler…or more satisfying. (Recipe and photo: Buns in My Oven)
6. Spaghetti Squash and Chard Gratin
Instead of using pasta for a baked dish, you can use spaghetti squash along with chard (or your favorite greens) plus plenty of cheese for a creamy baked side dish. (Recipe and photo: Kalyn's Kitchen)
Strands of spaghetti squash add a nice crunchy filling to naturally gluten free corn tortillas for a simple, meatless taco night. (Recipe and photo: Marin Mama Cooks)
8. Lasagna Stuffed Spaghetti Squash
There's nothing else to say about this recipe other than it's pure genius. After roasting and scraping the spaghetti squash, he returns everything back to the squash shell along with a hearty meat sauce and cheese for a low-carb lasagna fake out. (Recipe and photo: Closet Cooking)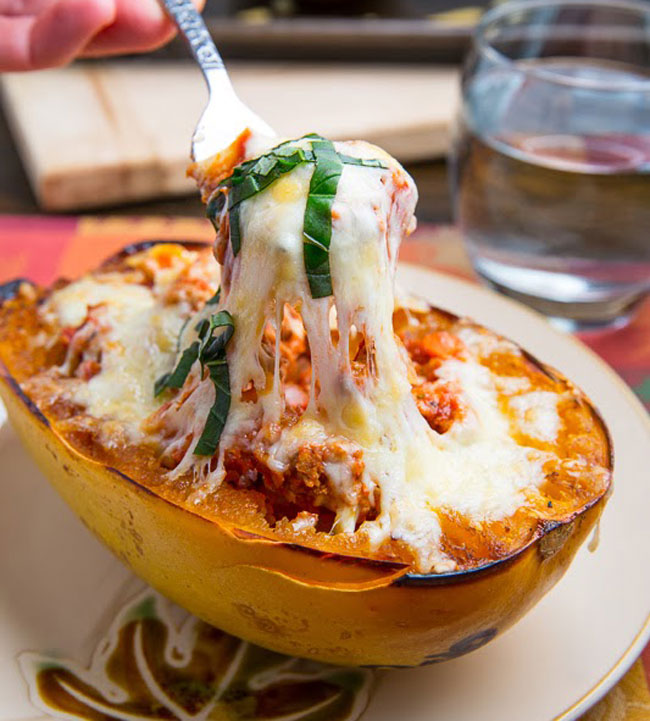 9. Southwestern Stuffed Spaghetti Squash
Prefer Tex-Mex flavors? Bev fills her spaghetti squash with black beans, corn, cumin, and spices before topping it with shredded cheddar cheese. (Recipe and photo: Bev Cooks on NoshOn.It)
We hope you'll take some of these recipes as inspiration to turn your spaghetti squash into something new. So tell us, do you love spaghetti squash? What are some of your favorite ways to use it?
Get more hand-picked recipes and cooking tips right in your inbox.