9 Gluten Free Quick Bread Recipes
" Fire up the oven for a new fuss-free Fall baking project with one of these 9 gluten free "bread" recipes with no yeast required. Have a slice with your morning coffee for breakfast, in the afternoon with a cup of tea, or deliver a whole loaf to a friend for a delicious homemade gift. Vijay, Recipe Hunter "
9 Gluten Free Quick Bread Recipes
Fuss free "bread," no yeast required
The weather is getting cool enough to turn on our ovens again and we're getting into the baking spirit. After the popularity of our Gluten Free Bread recipes post earlier this year, today we're bringing you a collection of "bread" recipes that don't require a ton of time or effort…or yeast. All you need is a loaf pan and a little inspiration to create these 9 quick breads that just happen to be gluten free. From classics like banana and zucchini bread to Fall-inspired variations using butternut squash and pumpkin, a delicious slice for breakfast or tea time is never more than a click away.
Gluten Free Banana Bread: Let's start with the basics. This simple and naturally-sweetened banana bread uses both almond and brown rice flour to make a classic recipe gluten free. No overripe bananas? No problem. (Recipe and photo: The Roasted Root)

Gluten Free Butternut Squash Bread: If you're wondering what to do with half of a roasted butternut squash, use it just like overripe bananas to create this Fall-inspired bread. (Recipe and photo: My Whole Food Life)

Zucchini Bread with Chocolate Chips (Vegan and Gluten Free): Shredded zucchini keeps this quick bread moist…and kind of healthy. (Recipe and photo: Sondi Bruner)

Gluten Free Pumpkin Spice Bread with Crystallized Ginger and Walnuts: This spiced has everything you need for the holidays – pumpkin, warm spices, spicy and sweet crystallized ginger. Serve it on a cold weekend morning with a big cup of coffee. (Recipe and photo: Tasty Yummies on NoshOnIt)

Orange Chocolate Swirl Bread (Low Carb and Gluten Free): Orange and chocolate are a classic combination and in this recipe, Carolyn creates a chocolate swirl both in the middle and on top of an orange flavored bread. (Recipe and photo: All Day I Dream About Food)

Gluten Free Peanut Butter Banana Bread: Did you ever eat peanut butter and banana sandwiches as a kid? This recipe turns that combination into a single slice. (Recipe and photo: A Sweet Simple Life)

Paleo Blueberry Bread with Lemon Glaze: Even if you can't get your hands on fresh summer berries, take the ones you've saved in the freezer (or a good quality frozen variety) to make this sweet and tangy delicious bread. (Recipe and photo: Living Healthy with Chocolate)

Fig Chai Tea Bread (Vegan and Gluten Free): Meg flavors this spiced bread with the flavors of chai tea and fresh figs. Serve it alongside a cup of tea! (Recipe and photo: Beard & Bonnet)

Gluten Free Date Bread with Coffee and Ginger: Need a little extra pick-me-up in the morning? Katie sweetens this bread naturally with dates and adds a cup of coffee directly into the batter. (Recipe and photo: Healthy Seasonal Recipes)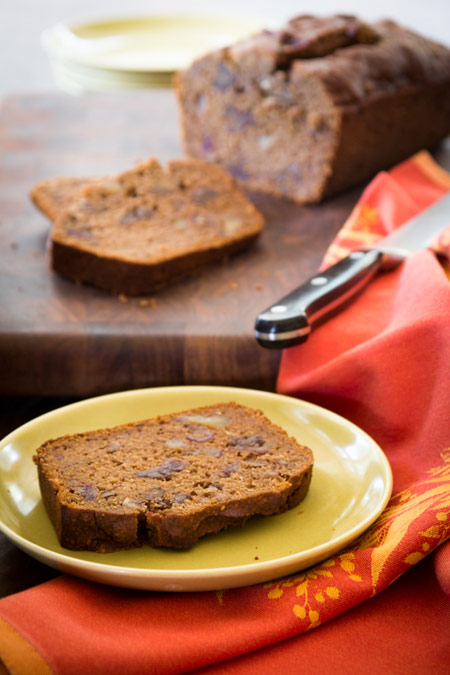 Get more hand-picked recipes and cooking tips right in your inbox.