Biscoff Shortbread Pizza with Nutella, Strawberries, and Toasted Hazelnuts
" This decadent dessert pizza boasts a Biscoff shortbread crust topped with Nutella, sliced strawberries, and toasted hazelnuts. It just might be the pizza of our dreams. Vijay, Recipe Hunter "
Biscoff Shortbread Pizza with Nutella, Strawberries, and Toasted Hazelnuts
The pizza of our dreams
This recipe is part of 2014 #PizzaWeek, a week-long blogging event celebrating cheese, carbs, and cheese on top of carbs.
This might be one of our greatest crowning achievements. We've seen pizza for breakfast, pizza for lunch, and even a few pizzas for dessert. Well, this is pizza for your dream. Your very, very sweet dreams, that is. Taking inspiration from the exceptional dessert pizza we had recently at Nomad Pizzeria in Philadelphia, we decided to take the dessert pie to the next level. Instead of a traditional pizza crust on the bottom, we went on the hunt for a sweet yet sturdy cookie base, ultimately landing on a classic shortbread recipe, infused with the ever-loved Biscoff spread and rolled into the shape of a pizza. Topped with Nutella (yes, Nutella AND Biscoff in the same recipe!), sliced strawberries, and toasted hazelnuts, this is the pizza we'll be dreaming of for months…and maybe years…to come.
The best part is that it's actually quite easy! Just mix the dough together and let it chill to firm up. After the dough has chilled, roll it out to approximately the width of your baking sheet, turn a dinner plate upside down, and cut around to form a nice clean circle. Then, use your fingers to crimp the edges to form a crust along the edge. Then, to make cutting easier later on, score (lightly cut) the dough with a knife, without cutting all the way through.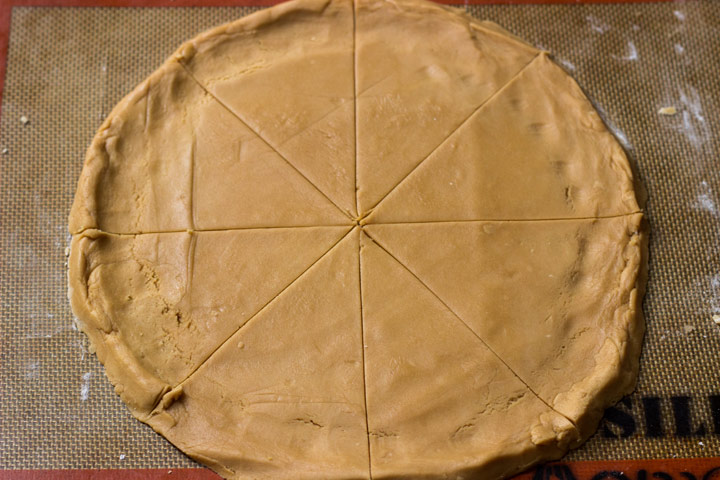 After about 15 minutes in the oven, the giant cookie will be lightly browned. This is the most important step – LET. IT. COOL. Shortbread comes out of the oven soft, but as it cools, it'll firm up. After about 30-45 minutes, cut through your score marks completely, then spread with Nutella. See, you can't even tell it's cut!
The, top with sliced strawberries, toasted hazelnuts, and a dusting of powdered sugar. Or, use your favorite berries and nuts on top.  Because we already pre-cut the dough, it makes it easy to remove a slice. The crust is sweet, buttery, and just a touch salty. The toastiness of the hazelnuts compliments the nuttiness of the Biscoff in the crust and the sweet strawberries bring it all together. And, well, Nutella is just a must.
Cheese is great, but some days, chocolate and butter are better.
Biscoff Dessert Pizza with Nutella, Strawberries, and Toasted Hazelnuts
Yield: Two 10-inch dessert pizzas or one 10-inch pizza and extra dough for cookies
Prep time: 15 minutes
Cook time: 15 minutes
Ingredients
For the dough
2 sticks unsalted butter, softened to room temperature
1 cup Biscoff spread
1 teaspoon vanilla extract
1 egg yolk
½ cup confectioner's sugar
2 ½ cups all purpose flour
1 teaspoon salt
½ teaspoon cinnamon
For the toppings
½ cup Nutella (you could also use more Biscoff, or half on each side)
1 cup sliced strawberries (bananas would be delicious too)
¼ cup chopped hazelnuts, toasted (or your favorite nut)
Powdered sugar, for garnish
Instructions
In a stand mixer fitted with a paddle attachment, cream together the butter and Biscoff for 1 minute. Add the vanilla and egg yolk and beat to combine. Sift together the confectioner's sugar, flour, salt, and cinnamon. Gradually add to the mixer while on low speed until completely combined.
Using a spatula, remove the dough from the bowl and press together with your hands to form a ball. Cut into half, form each half into a flat disc, and wrap each with plastic wrap. Refrigerate for 2 hours until the dough has firmed up.
Preheat the oven to 350F.
Line a rimmed baking sheet with a Silpat or parchment paper. Lightly dust the center with flour and place one round of dough into the middle. Dust the top with flour and using a floured rolling pin, roll the dough to ½" thickness until it can be cut into a 10" circle.
Place a dinner plate upside down on top of the dough and cut around the edges to form a clean circle. Add the extra pieces of dough to the other mound of dough in the fridge.
Using a paring knife, score the top of the pizza into slices, without cutting all the way through. Use a fork to prick (or "dock") the dough 5-6 times on each slice to prevent it from rising.
Bake for 15 minutes until golden brown. Remove and let cool completely, 30-40 minutes. If you try to work with it too soon, the shortbread will fall apart.
If you're using a Silpat, transfer the pizza to a cutting board or piece of parchment paper. Use a knife to carefully cut the pizza into slices along the score marks. This will make it easier to remove pieces later.
Soften the Nutella in the microwave for 15-20 seconds to make it easier to spread then spread across the entire pizza, leaving ½" around the edges as the "crust." Top with sliced strawberries, sprinkle with toasted hazelnuts, and dust with powdered sugar, then serve.
Dough recipe adapted from The View from Great Island
Get more hand-picked recipes and cooking tips right in your inbox.