Gluten Free Oktoberfest Recipes
" Oktoberfest started this weekend and just because you're on a gluten free diet doesn't mean you can't join in on the fun with your own celebration. This collection of gluten free recipes and tips on what to eat and drink will have you saying "prost!" in no time. Vijay, Recipe Hunter "
Gluten Free Oktoberfest Recipes
Oktoberfest goes gluten free
This year, Oktoberfest runs from September 21st to October 6th and even if you're not traveling to Germany, you can still celebrate your own Oktoberfest party in your own home. With a lot of breaded and fried items (and of course, plenty of steins of beer), German cuisine isn't exactly what we would call gluten free friendly. So today, we've put together a collection of gluten free versions of some of our favorite classic German recipes as well as a few easily adaptable recipes subbing in gluten free ingredients. And let's not forget the beer! At the end, there's even a link to the best gluten free beers and ciders so you can raise a glass and say "prost!" too.
German Cucumber Salad: Also known as gurken salat, this quick-pickled cucumber salad with dill, cider vinegar, and onion is a refreshing start to a heavy dinner or a delicious accompaniment to sliced meats and cheeses. (Recipe and photo: The Culinary Life)
German Potato Salad: Unlike the mayo-laden picnic potato salads, this German potato salad with bacon and scallions has a vinegar and mustard based dressing for a zingy  side dish.(Recipe and photo: Girl in the Little Red Kitchen)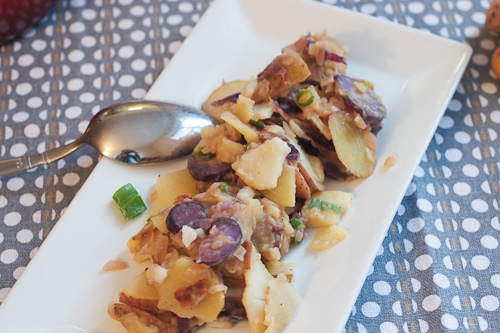 Gluten Free Soft Pretzel Bites: What would Oktoberfest be without pretzels? Heather uses a creative blend of gluten free flours to create these perfectly browned soft pretzel bites which are best served with a spicy whole grain mustard and tall beer. (Recipe and photo: A Sage Amalgam)
Homemade Sauerkraut: Who knows how long those packets of sauerkraut have been sitting at the store? Instead, make your own at home with your own combination of vegetables and spices using this guide. Layer everything into a crock, let it ferment for at least 5 days, and you've got your own homemade sauerkraut to serve on top of sausages. (Recipe and photo: Recipe Renovator)
Currywurst: A classic German street food, currywurst is traditionally a grilled bratwurst smothered in a curry ketchup sauce served with fries. (Recipe and photo: Beantown Baker)
Crock Pot Apple Kielbasa Bites: Though not the traditional presentation of German sausage, these toothpick-worthy apple kielbasa bites are the perfect party snack. (Recipe and photo: Very Culinary)
Gluten Free Spaetzle: Instead of regular flour, this recipe uses fava bean flour to make these delicate little German dumplings with butter, cheese, and sage. (Recipe and photo: Sweet C's Designs)
Pork Schniztel: Instead of using the regular breadcrumbs that this recipe calls for, simply swap in your favorite brand of store-bought gluten free breadcrumbs to make these thin crispy pork cutlets. (Recipe and photo: Tracey's Culinary Adventures)
Gluten Free Black Forest Cherry Cake: This fluffy, gluten free version of Black Forest Cake is soaked with cherry liqueur and layered with fresh cherries and whipped cream. (Recipe and photo: Gluten Free Canteen)
Gluten Free Paleo Apple Cinnamon Streusel Muffins: A gluten free strudel can be near impossible to perfect so instead, replicate the flavors of apples, cinnamon, and sugar in these muffins! (Recipe and photo: Gabby's Gluten Free)
The 9 Best Gluten Free Beers and Ciders: Last but certainly not least, let's not forget about one of the central pieces of any good Oktoberfest celebration – beer! Phoebe of Feed Me Phoebe has put together a collection of her favorite gluten free beers and hard ciders that you can raise your glass with. (Recipe and photo: Feed Me Phoebe)
Get more hand-picked recipes and cooking tips right in your inbox.