Sicilian Pizza with Eggplant
" There's more to Sicilian pizza than the recognizable square shape. Recreate this Italian classic with a focaccia crust baked in olive oil and topped with fresh vegetables. Caroline, Recipe Hunter "
Sicilian Pizza with Eggplant
Everything you ever wanted in a sheet pan
This recipe is part of 2014 #PizzaWeek, a week-long blogging event celebrating cheese, carbs, and cheese on top of carbs.
Stuffed crust, deep dish, and thick crust enthusiasts can finally agree on one order: Sicilian pizza. But don't mistake the square slice for a mysterious school cafeteria meal of your past. Sicilian dough stretches across an olive oil-coated sheet pan and rises to form a focaccia-like crust that's easily sliced into squares. The thick pan pizza supports loads of toppings that won't slip off when you go in for a bite. Traditionally, it varies in shape and sauciness as you move around the Sicilian coast.
In the States, you'll more likely find a thick crust topped with a heaping of cheese and a pepperoni grid system. We've found the perfect balance: a crust that's crispy on the bottom and soft and warm beneath a melded-together layer of fresh mozzarella cheese,  simple, seared eggplant, and sliced red onion. With the fluffy, slightly sweet crust and fresh vegetables reminiscent of the Sicilian coast, it doesn't get much better than this.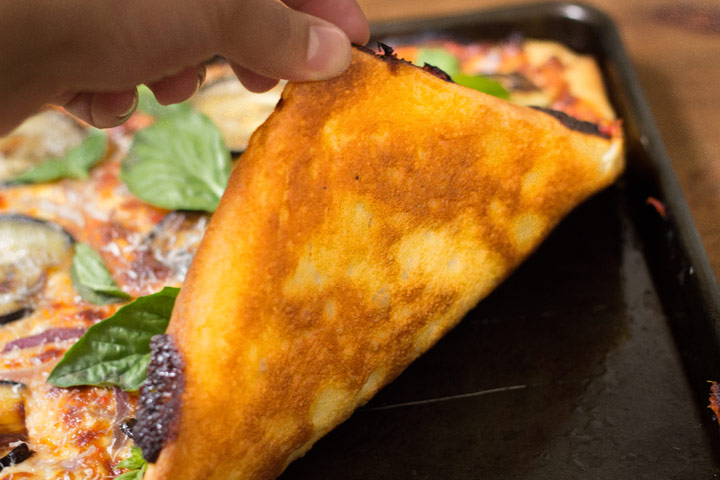 If  you're looking to mix up the topping options, try one of these Sicily-inspired combinations:
Fresh spinach, mozzarella, and tomatoes
Mozzarella, spinach, artichoke, and sliced onion
Sliced cherry tomatoes, olives, and grilled eggplant
Mozzarella, anchovies, and olives
Sicilian Pan Pizza with Seared Eggplant
Yield: 4-6 servings (One full baking sheet)
Prep time:2 hours 30 minutes
Cook time:20 minutes
Ingredients
For the dough:
1 ½ cups warm water (110-115 F)
2 teaspoons sugar
1 ½ teaspoons active dry yeast
2 teaspoons salt
2 tablespoons extra virgin olive oil
3 ¾ cups all purpose flour
For shaping:
⅓ cup extra virgin olive oil
For the sauce:
1 28-ounce can whole San Marzano Tomatoes
2 teaspoons dried oregano
1 tablespoon extra virgin olive oil
1 ½ teaspoons salt
½ teaspoon black pepper
For the toppings:
1 large eggplant
Salt
¼ cup vegetable oil, divided
1 small red onion, thinly sliced
½ pound (8 ounces) whole milk shredded mozzarella cheese
½ cup parmesan cheese, grated
Fresh basil
Instructions
To proof the yeast, add the warm water and 2 teaspoons sugar into the bowl of a stand mixer. Whisk to combine. Sprinkle the dry yeast on top, whisk briefly, then let sit for 15 minutes until it foams up.
Add the 2 teaspoons salt and 2 tablespoons extra virgin olive oil. Using the dough hook attachment, mix for 30 seconds to combine. With the mixer running on low, slowly add the flour. Once no dry flour remains visible, increase the speed to high and knead for 7-8 minutes until the dough is smooth and pulling away from the sides of the bowl. It may still be sticking to the bottom. Drizzle the top with olive oil, cover with a kitchen towel, and let rise for 2 hours.
While the dough is rising, make the sauce: combine the tomatoes, oregano, olive oil, salt, and pepper in a food processor or blender and pulse several times until combined and smooth. Set aside.
Then, cut the top and bottom off of the eggplant and cut into ¼" thick long strips. Season each piece generously with salt on both sides and let sit in a colander for 45 minutes until the eggplant releases its moisture. Rinse with cold water to remove the excess salt and pat thoroughly dry with paper towels.
In a heavy skillet (we like cast iron), heat 2 tablespoons of vegetable oil over medium-high heat. Sear the eggplant on either side for 2-3 minutes until lightly charred. Remove to a paper towel-lined plate, add more oil if necessary and repeat with the remaining pieces. Set aside.

To cook, preheat the oven to 525 F with a rack in the middle. Pour ¼ cup of olive oil onto a rimmed baking sheet and spread around with your fingers. Empty the dough onto the pan, drizzle the tip with the remaining oil and using the tips of your fingers, press and stretch the dough so it reaches every corner of the pan. It may seem like a lot of oil but you want this so the dough gets crispy. If you find the dough not stretching, let it sit for 5 minutes to relax, then continue stretching.

Top with ½ – ¾ cup of the sauce, using your fingers to spread it into a thin layer.

Sprinkle the mozzarella cheese evenly over the entire pizza.

Then, top with the sliced onion and seared eggplant.

Bake for 15-20 minutes until golden brown and bubbling.  When it comes out of the oven, sprinkle with parmesan cheese and fresh basil. Allow to cool for 5-10 minutes before slicing and serving.
Here's a handy tip to help you make this Sicilian Pizza with Eggplant recipe.
Read the full tip >
Get more hand-picked recipes and cooking tips right in your inbox.